This submission is currently being researched & evaluated!
You can help confirm this entry by contributing facts, media, and other evidence of notability and mutation.

About
Science Bros refer to the slash pairing of Marvel comic characters Bruce Banner (The Hulk's alter ego) and Tony Stark (Iron Man) as portrayed by Hollywood actors Mark Ruffalo and Robert Downey Jr. in the 2012 American superhero film The Avengers. On DeviantART and Tumblr, the pairing has inspired an extensive collection of fanart illustrating the two characters in varying degrees of intimacy, ranging from platonic friendliness to homoerotic romance.
Origin
The phrase "Science Bros" was coined by Tumblr blogger killianing[1] in a GIF photo set depicting various interactions between Banner and Stark posted on May 5th, 2012, following the release of the 2012 live action film based on the Marvel comic series The Avengers.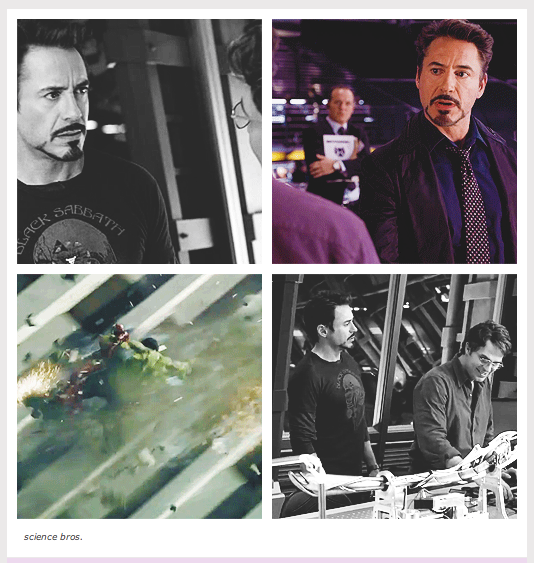 Spread
On May 6th, 2012, DeviantART user PikaDiety created a group called #ScienceBoyfriends[13] as a community hub for fanart illustrations depicting Banner and Stark as a romantic pair. On June 3rd, DeviantART user Cally-wally created a similar group titled #Science-Bros.[14] On May 19th, the first Tumblr blog[2] solely dedicated to showcasing fanart illustrations of Stark and Banner as a pairing was created, followed by the launch of Fuck Yeah Science Bros[3] on May 25th. On August 9th, 2012, the fan fiction Tumblr blog Science Bro Head-Canons[5] was created.
Ruffalo's Response
On April 17th, 2013, the entertainment news magazine Vulture[6] introduced actor Mark Ruffalo to the meme and wrote about his response in an article titled "Mark Ruffalo Reacts to 'Science Bros,' the Tony Stark–Bruce Banner Romance Meme." According to the article, Ruffalo at first couldn't believe the sheer volume of such fanart, but he ultimately expressed approval of the meme.
"Yeah! I love it; it's awesome," Ruffalo enthused. "I endorse it 100 percent. You know what it is? It's open-source creativity.
Notable Examples
Hundreds of Banner/Stark slash fanart illustrations can be found on a number of Tumblr fan sites[11] and DeviantART.[12]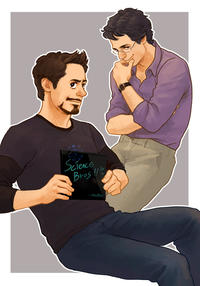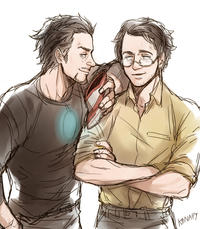 Search Interest
External References
Recent Videos
There are no videos currently available.