About
Senor Chang's "Gayyyyy" refers to a quote attributed to the fictional character Señor Ben Chang in the TV sitcom series Community. Due to Chang's unusual enunciation, coupled by his questionably sophomoric word choice, the scene has lent itself to many parodies and YouTubePoop remixes on sites like Tumblr and YouTube.
Origin
The quote was first heard in Community's season two premier episode titled "Anthropology 101,"[1] which aired on September 23rd, 2010. In one of the scenes, Jeff Winger (Joel McHale) tries to inspire his students by telling the class that "the most important tool is respect," to which Señor Ben Chang (played by Ken Jeong) simply retorts "Ha, gayyyyy!"
The clip from the episode was subsequently uploaded by YouTuber lolocaust0[5] on September 29th. The video was also featured on the frontpage of Reddit and went onto accumulate over 1.1 million views as of April 2012.
Spread
On November 5th, 2010, webcomic artist Stephen Gillan referenced Señor Chang's quote in his Antics Comic series, which became widely known as the Homophobic Seal among the fans. In this particular comic, two men decide to embrace each other in an arctic blizzard in order to survive the cold, when the homophobic seal suddenly appears out of nowhere and yells "GAAAAAAYYYY."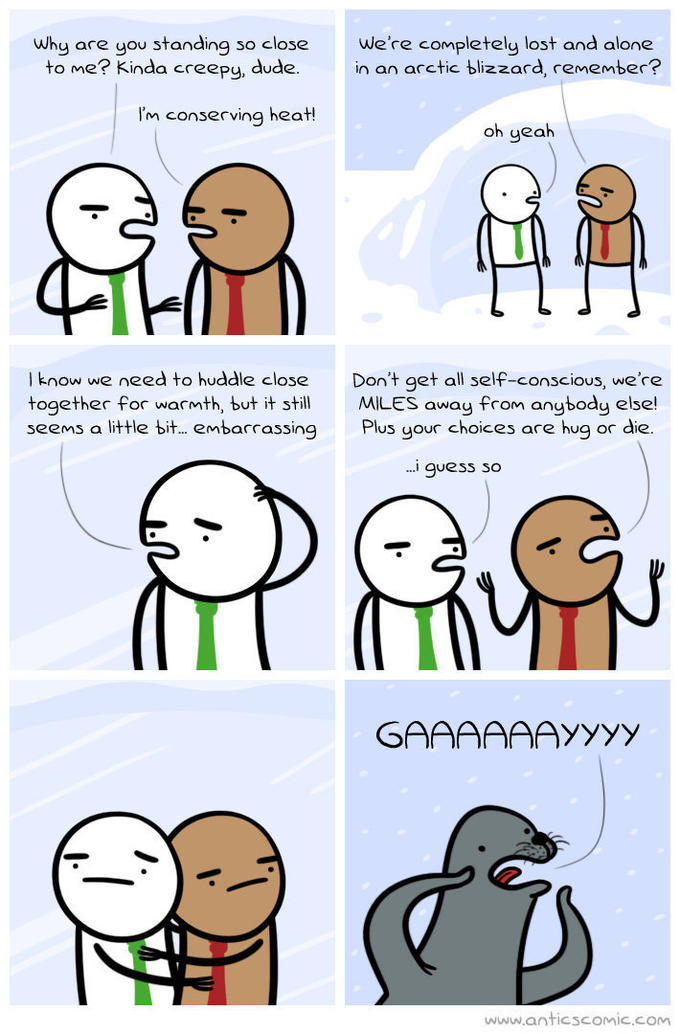 The quote has been since turned into an instant soundboard[2] single serving site and mobile ringtones[4] for iOS and Android, as well as a slew of reaction GIFs, YTPMVs on YouTube and even some rage comics on Reddit.



One of the first notable remixes based on Señor Chang's "Gayyyyy" soundbite was uploaded by YTPMV artist zumspeedboi on June 21st, 2011.
Notable Examples
Many other YouTubePoop artists such as MrYTPMV, planbskaters159 and TomGoodMen soon followed up with more remixes[6], drawing influences from various pop songs and 8-bit soundtracks to Dubstep beats and AutoTune.
Search Interest
External References