This submission is currently being researched & evaluated!
You can help confirm this entry by contributing facts, media, and other evidence of notability and mutation.
About
Side Eye Dog or Dog Giving Side Eye refers to a photograph of a dachshund dog looking sideways toward the camera with a suspicious look and squinted eyes, known as the side eye. The image of the sus dog was first posted to Reddit in April 2015 and became a popular reaction image in the following years, particularly on TikTok, where it is attached to videos and images of people exhibiting sus behavior.
Origin
On April 23rd, 2015, Redditor gooddboyy posted an image to /r/aww[1] of a brown wiener dog giving the camera the side eye, captioned, "A ride in the car, huh? Are you sure it's not a ride in the car…to the vet?" garnering over 600 upvotes in seven years (shown below). It was also uploaded to Imgur[2] that day.

Spread
The image became the subject of memes including image macros and saw use as a reaction image over the following years. On May 2nd, 2016, an Imgur[3] user posted a meme using the image, garnering over 150 upvotes in six years (shown below). The image was reposted to /r/Showerthoughts[4] on July 5th, gaining over 800 upvotes in six years. The original photo was used as a reaction image on the Nairaland[5] forum in October 2017.

On September 16th, 2021, Twitter[6] user @ayakapedia posted a thread of dogs giving the side eye starting with the dachshund, garnering over 14,000 likes and 2,800 retweets in a year. Later that year the image started to see use on TikTok as a reaction, meant to call out sus behavior. For example, on October 23rd, TikToker[7] @sussideeyedogcringe, an account dedicated to the meme, posted a video garnering over 83,000 views in 10 months (shown below).
On November 21st, Instagram[8] user kermit.duh.frog posted a meme using the image, gaining over 80,000 likes in nine months (shown below, left). On June 7th, 2022, musician Halsey posted the meme to Twitter[9] along with a joke about her song "So Good," garnering over 23,000 likes and 1,200 retweets in two months (shown below, right).


Various Examples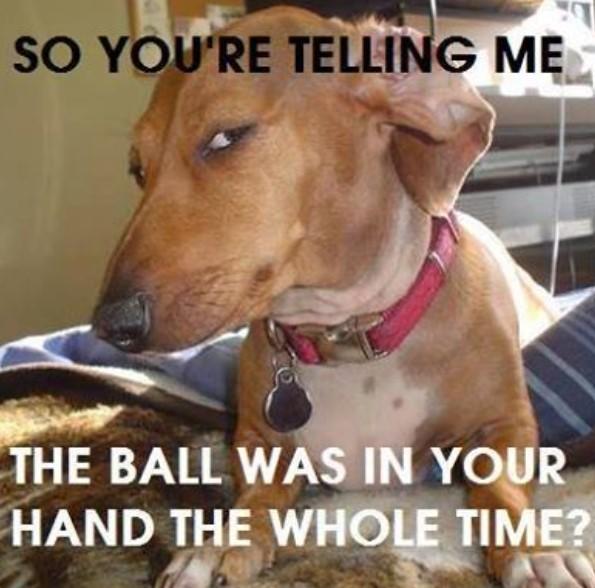 Search Interest
External References
Recent Videos
There are no videos currently available.