About
Side Eyeing Chloe, also known as Side Eye Chloe, is a photoshop meme based on a screen capture of a concerned-looking little girl in a YouTube video of two children reacting to their parents' announcement of a surprise trip to Disneyland that went viral in September 2013.
Origin
On September 12th, 2013, YouTuber KAftC[1] uploaded a video titled "Lily's Disneyland Surprise… AGAIN," which shows two sisters, Lily and Chloe, reacting to the news of a surprise trip to Disneyland on their way to school. As the older sister, Lily, breaks into tears of joy, Chloe is briefly seen on camera with a disturbed look on her face.
Spread
On September 18th, Tumblr user Lee[2] submitted an animated GIF photo set of highlights from the YouTube video, including one of Chloe reacting to her sister's crying, with the caption "i just love this because chloe is like 'da hell is this girl cryin about.'" In less than a month, the post gained more than 895,700 notes.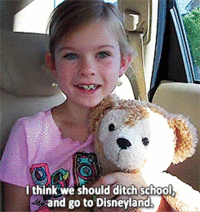 On September 24th, BuzzFeed[8] picked up on Lee's GIF photo set in a post titled "Girl Reacting To Disneyland Is The Only Reaction You'll Need For Anything Ever." On November 1st, Tumblr user Yungbasedblogger[3] uploaded a reaction image based on a screenshot of Chloe's reaction with the caption "could u fucking not," racking up over 120,000 notes in two weeks.

By November 5th, a single topic blog named Chloe Queen of Everything[4] had been launched to showcase a series of photoshopped images featuring the face of Chloe on celebrities.[5][6] On November 13th, BuzzFeed[7] reported on the parody phenomenon in an image compilation post titled "Side-Eyeing Chloe Is Officially The Patron Saint Of Tumblr."



May 2017 Google Visit
On May 22nd, 2017, the @lilyandchloeofficial[9][10] Instagram posted photographs of Chloe visiting Google in Sao Paulo, Brazil (shown below). That day, Twitter user @AnnaCrysti[11] tweeted the photographs of Chloe along with the caption "Y'all look at my girl Chloe all grown up." Within 72 hours, the tweet gained over 105,000 likes and 41,000 retweets. In the coming days, several news sites published articles about the new photographs of Chloe, including BuzzFeed,[12] Bustle[13] and Seventeen.[14]


External References