About
Squart Guy is the nickname of OKCupid user papapaka, who gained notoriety for his online dating profile describing his sexual fantasies in explicit details, combined with numerous spelling and grammatical errors. On Tumblr and other cringe-themed communities, screen captures of his profile pictures and quotes have been parodied in the form of fan art illustrations.
Origin
The pakapaka OKCupid[2] profile was last updated on May 23rd, 2012. In the various subsections, papapaka repeatedly mentions his interest in sex while boasting about the size of his genitalia and his ability to pleasure women.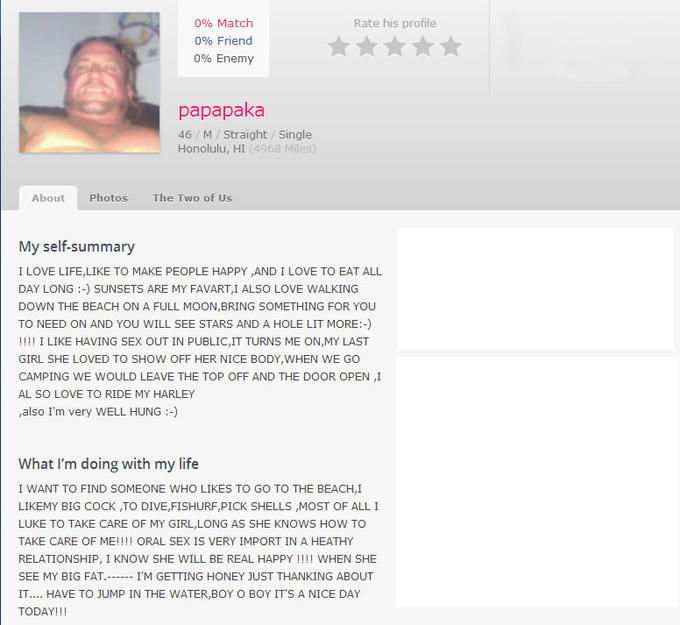 The nickname stems from one of his profile quotes in which the word "squirt," a slang term for female ejaculation, is misspelled:
"IF I'M GOING TO MAKE YOU SQUART ACROSS THE ROOM ,,,, NOW THAT TURNS MW ON :-)!!!!!!! NOTHING LIKE HAVING THE BEST OEGAMIOM IN THE WORLD EVERYDAY,,,, YEA BABY ….."
Spread
On August 12th, 2012, the Addicted to Cupid[5] Tumblr blog posted a screenshot of pakapaka's profile, which garnered more than 2,200 notes in the first two years (shown below). On April 12th, 2013, Redditor hellpony submitted the same screenshot in a post titled "100% enemy" to the /r/cringepics[1] subreddit, where it received over 5,100 up votes and 380 comments prior to being archived.

On January 13th, 2014, Mixed Martial Arts Forums[3] member Michael Washam posted a thread featuring papapaka's OKCupid profile .On the following day, Tumblr[8] user dismers-wonderhouse posted a photoshopped card for the Pokemon Squirtle bearing the likeness of papapaka (shown below). Within two months, the post garnered over 8,000 notes.

On February 14th, DeviantArtist[6] xen-dance submitted a digital illustration of papapaka (shown below, left). On March 10th, the Draw Me the Squart Guy Tumblr[4] blog was launched, which highlights illustrations of papapaka's profile photo (shown below, middle, right).



On the following day, Tumblr user navyhuskie[7] posted the logo for the video game company Square Enix edited to read "Squart Enix" (shown below). In 24 hours, the post garnered upwards of 1,900 notes.

Notable Examples






Search Interest
External References