This submission is currently being researched & evaluated!
You can help confirm this entry by contributing facts, media, and other evidence of notability and mutation.
About
#StopPresidentBannon is a Twitter hashtag launched in protest Donald Trump's appointment of Chief Strategist Steve Bannon to the National Security Council in January 2017.
Origin
On January 28th, 2016, United States President Donald Trump signed a memorandum to reorganize the National Security Council (NSC), adding his chief strategist Steve Bannon and Chief of Staff Reince Priebus, while removing the director of national intelligence and the chairman of the Joint Chiefs of Staff. That day, Interim Dean Will Mebane of St. Paul's Episcospal Cathedral tweeted the hashtag #StopPresidentBannon, which gained over 180 likes and 150 retweets within 48 hours (shown below).[1]

Spread
That day, other Twitter users began tweeting criticisms of Bannon's appointment using the "#StopPresidentBannon," leading the hashtag to trend on the social networking platform (shown below).


On January 29th, artist Pia Guerra tweeted an illustration of Bannon seated behind Trump referring the president as a "big boy" (shown below).[2] Within 24 hours, the post gained over 18,000 likes and 13,000 retweets. The same day, the @Impeach_D_Trump[3] feed posted a picture of Bannon with "President" written underneath juxtaposed with a photograph of Trump with "Vice President" written underneath (shown below, right).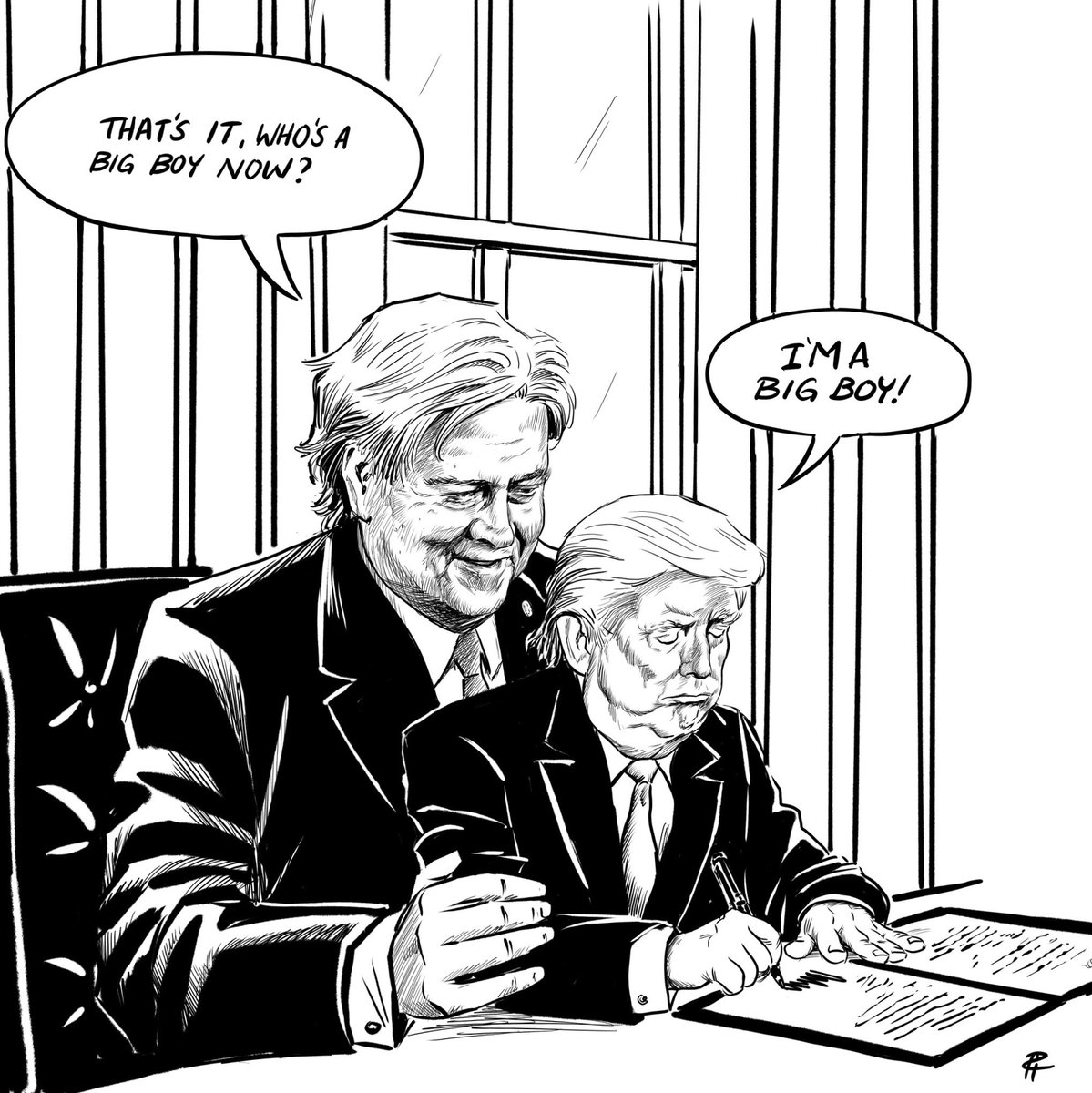 In the coming days, various news sites published articles about the trending hashtag, including Newsweek,[4] Time,[5] Yahoo! News,[6] UpRoxx[7] and Fortune.[8]
Search Interest
Not available.
External References