About
Strutting Leo is a photoshop meme featuring a photograph of the actor Leonardo DiCaprio walking merrily toward the camera while on the set of the 2010 science fiction film Inception. Examples of the meme typically superimpose DiCaprio's cutout image into various humorous contexts, similar to the Disaster Girl and Prancing Cera exploitable series.
Origin
The original picture was taken on set during filming of the 2010 science fiction movie Inception. On August 19th, 2009, the entertainment blog Celebrity-Gossip[14] published a post titled "Leonardo DiCaprio and Ellen Page: Filming in Paris", which featured the strutting image in an Inception photo gallery.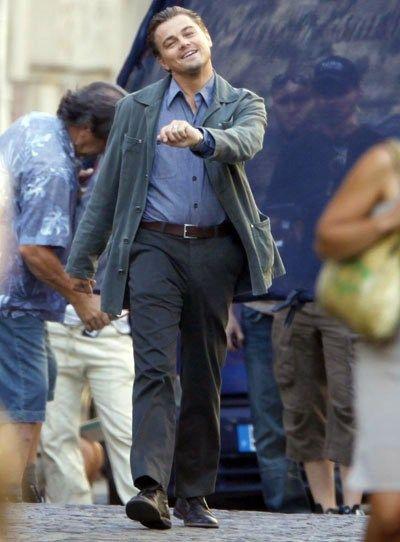 Spread
On August 28th, 2010, a forum thread titled "Photoshop Leonardo DiCaprio" was created on the flash animation website Newgrounds[13], which featured an exploitable template of the photo with a transparent background (shown below, left). On August 29th, Redditor WolfTweak submitted a post titled "Simple into Mordor" to the /r/pics[3] subreddit, highlighting a photoshopped image of DiCaprio strutting through scenes in the fantasy film series The Lord of the Rings (shown below, right). On August 31st, the "Fuck Yeah Strutting Leo" Tumblr[1] blog was launched. On the same day, the viral content site BuzzFeed[2] published a post titled "Strutting Leo", in which several users commented notable examples of the exploitable.


On September 1st, the Internet humor site The Chive[6] published a compilation of notable examples from the series. On September 5th, Funny or Die[4] published a post titled "The 23 Funniest Strutting Pics", which received over 1.4 million views within two years. The same day, the single topic blog StruttingLeo.com[5] was launched. On September 7th, the Internet news site UpRoxx[9] published a post titled "Meme Watch: Strutting Leo", comparing the series to the Prancing Cera photoshop meme. On September 26th, YouTuber jkilaaa uploaded a music video titled "Jay Kila – Leo Strut (Official Video)", which featured animations of original DiCaprio photograph walking through various images accompanied by the rap song "Leo Strut."
On October 4th, The Washington Post[15] published a blog post titled "Strutting Leo DiCaprio Meme Hits Warp Speed." The meme continued to spread on Memebase[16] and Tumblr[17] under the tag "#strutting leo." As of August 6th, 2012, the "Strutting Leo" Facebook[7] page has accumulated over 9,200 likes.
Various Examples






Search Interest
External References