This submission is currently being researched & evaluated!
You can help confirm this entry by contributing facts, media, and other evidence of notability and mutation.
About
Captain America is a fictional superhero created by Marvel Comics, who was designed as a patriotic supersoldier to fight for the United States during World War II. The character is known for wielding a large shield and wearing a costume resembling the United States flag.
History
In 1940, Captain America was invented by writer Joe Simon. In March 1941, the first comic book featuring the character was released titled Captain America Comics #1, in which the character was depicted wearing an American flag-themed costume and shield (shown below).

Films
On July 19th, 2011, the film Captain America: The First Avenger was released, in which the character Steve Rogers (played by Chris Evans) becomes the supersoldier Captain America after being injected with a powerful serum in order to fight against the Nazi-backed HYDRA organization during World War II (shown below, left). In April 2012, Evans starred as Captain America in the film The Avengers. On March 13th, 2014, a sequel titled Captain America: Winter Soldier was released (shown below, right).
In May 2015, Captain America appeared in the The Avengers sequel Age of Ultron. On April 12th, 2016, the film Captain America: Civil War was released, in which The Avengers engage in an internal feud based on differences between Captain America and Iron Man (shown below).
Online Presence
In July 2010, a Facebook[2] page titled "Captain America" was created, garnering upwards of 16 million likes over the next six years. On February 3rd, 2011, /r/CaptainAmerica[1] subreddit was launched for discussions about the superhero character. In July 2012, the @CaptainAmerica[3] Twitter feed was created, gathering more than 1.18 million followers in four years.
Related Memes
I Understood That Reference
"I Understood That Reference" is an expression typically used in online forums and comments as an affirmative acknowledgement of a pop culture reference or technical jargon said by another. The quote was originally uttered by Captain America in the 2012 Marvel superhero action film The Avengers.

Captain America: Civil War 4 Pane
Captain America: Civil War 4-Pane (also known as Captain America vs Iron Man) is a series of vertical multi-pane image macros based on an exploitable photo set from the 2012 Marvel superhero film The Avengers illustrating a deadlocked conversation between two people at odds, usually over fandom rivalries.

Mission Report: December 16th, 1991
"Mission Report: December 16th, 1991" is a quote repeatedly uttered by the supervillain character Helmut Zemo in Captain America: Civil War.

#GiveCaptainAmericaABoyfriend
In late May 2016, Captain America fans on Twitter[5] and Tumblr[4] launched the hashtag #GiveCaptainAmericaABoyfriend encouraging Marvel to give Steve Rogers a boyfriend in future films in the franchise. Along with the hashtag, many fans "shipped" the superhero with his childhood friend Bucky Barnes.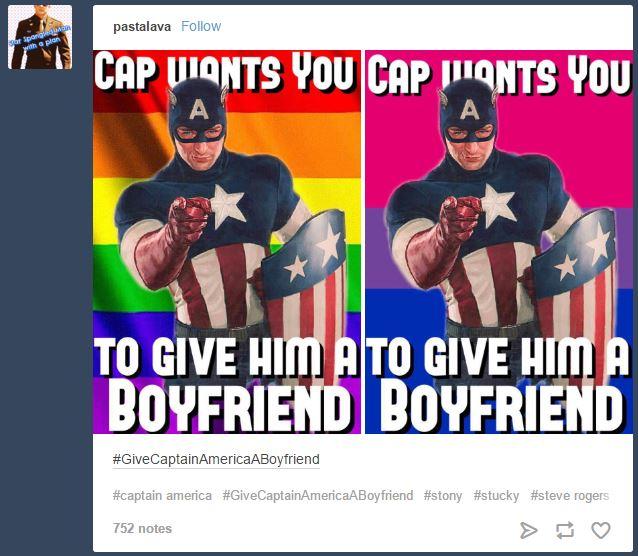 On May 24th, opponents of the idea began tweeting counterarguments, claiming that they should be promoting characters who are already depicted as gay rather than pushing for characters to be altered (shown below). In the coming days, several news sites reported on the hashtag, including Yahoo,[6] Entertainment Weekly,[7] USA Today[8] and Bustle.[9]


Search Interest
External References