This submission is currently being researched & evaluated!
You can help confirm this entry by contributing facts, media, and other evidence of notability and mutation.
About
Elf Bar, also known as ElfBar, is a Chinese brand of disposable electronic nicotine vapes prevalent in use among young adults in the U.S. and the U.K. The product was first launched in 2018 and grew into prominence in meme culture around 2022, with memes about the vape devices generally revolving around the topic of addiction, different flavors and the cultural connotations the vape carries in different countries.
History
The Chinese brand ElfBar was originally founded in 2018 and steadily increased its production to 55.8 million units in 2022, as well as increased value sales by over $300 million.[1]
Online History
Discussions about Elf Bars can be traced back to Twitter in late 2021,[2] however, the earliest viral tweet to reference the vape was posted on December 19th, 2021, by Twitter user @xx_epx, gathering over 10,000 likes in a year (seen below).

Discussions and memes about Elf Bars continued to proliferate into 2022. On January 21st, 2022, the Instagram[4] page @femmcellectuals posted a meme about Elf Bars, gathering over 2,000 likes in a year (seen below, left). On January 25th, the Instagram[5] page worsthistorymemes posted a meme about Elf Bars, gathering over 2,300 likes in a year (seen below, right).


Discussions about the popularity of Elf Bars in the U.K. gained traction in 2022, with Twitter[6] user @georgedavis_0 posting a tweet on April 18th, 2022, that read, "Pretty sure the UK breathes in elf bar and balloons more than oxygen at this point," gathering over 16,000 likes in 11 months (seen below, left). On May 19th, Twitter[7] user @BigLez67 posted a tweet about finding an Elf Bar in his son's room, gathering over 11,000 likes in nearly 10 months (seen below, right).


Various Examples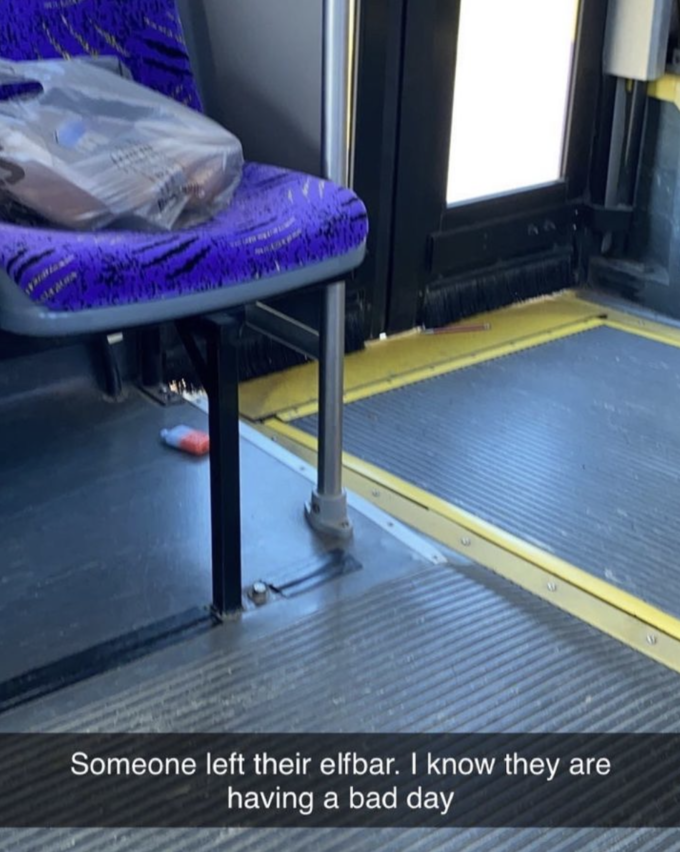 Search Interest
External References
Recent Videos
There are no videos currently available.