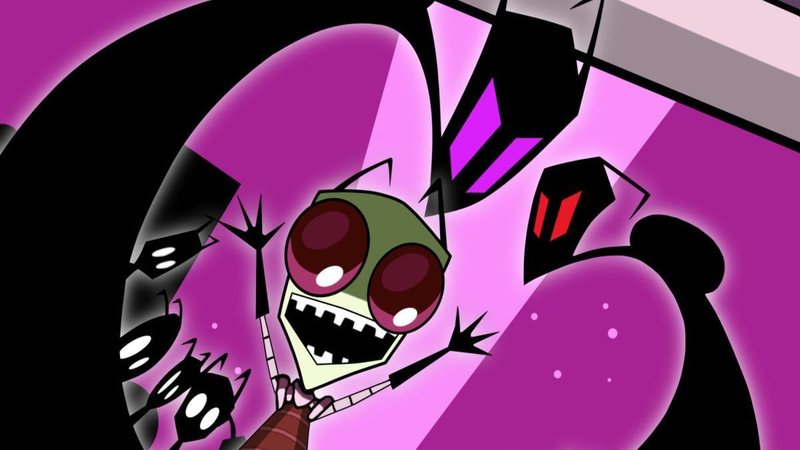 This submission is currently being researched & evaluated!
You can help confirm this entry by contributing facts, media, and other evidence of notability and mutation.
Origin
Invader Zim is an American cartoon originally airing on Nickelodeon in 2001 featuring an alien named Zim sent to Earth by his leaders (only to get him out of the way) led to believe it was a legitimate mission. Created by Jhonen Vasquez, author of Johnny the Homicidal Maniac, the cartoon was noted for its dark, satirical themes. Ratings dropped after the first season and the show was cancelled in the middle of the second season.
Cult Popularity
Since cancellation, interest in the show has risen again. The show has gained a cult following on the internet, particularly on deviantArt, where dozens of dedicated fan art groups are kept. Original Characters in the Invader Zim universe are a common sight, and the series has one of the largest amounts of fanfiction held on fanfiction.net.
The character GIR, a defective and inept robot given to Zim has become popular on the internet due to his innocent demeanor and random, out of context dialogue. Some of the largest amount of fan art is dedicated to GIR, and the character has become popular enough to have a line of T-shirts and merchandise produced by Mighty Fine.
Revival Attempts
A Facebook page known as Operation Head Pigeons (their official site can be found at http://operationheadpigeons.yolasite.com/) was formed as a movement to bring the show back. As of October 4, 2011, the page has 9,927 likes.
On September 17, 2010, creator Jhonen Vasquez posted an entry on his official blog. In this blog entry, he stated that representatives from Nickelodeon had been calling him and talking about possible resurrection of the series. This blog caused interest in the show and its revival to surge again, particularly because Vasquez also stated he was interesting in doing more work with the show, when it was long thought he hated working on it. The blog can be read at http://www.questionsleep.com/mindspill/?p=2024