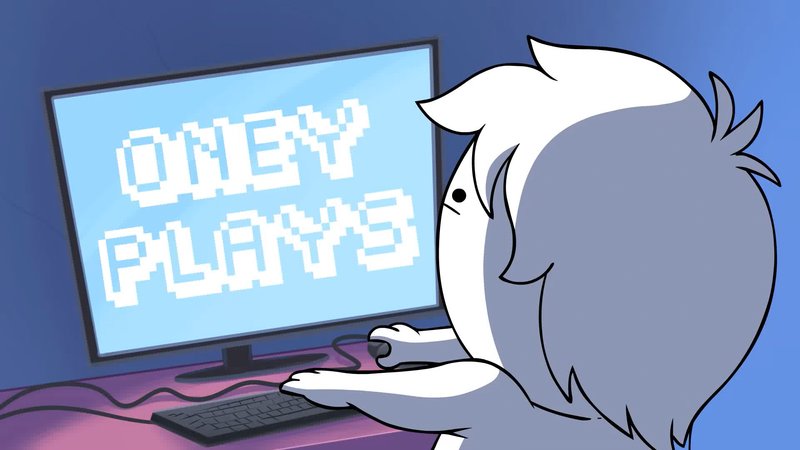 This entry contains content that may be considered sensitive to some viewers.
This submission is currently being researched & evaluated!
You can help confirm this entry by contributing facts, media, and other evidence of notability and mutation.

About
Oney Plays (named as OneyPlays on YouTube) is a Let's Play channel created and hosted by Newgrounds and YouTube animator Chris O'Neill (OneyNG), mostly accompanied with his friends Ding Dong and Julian Marcel.
Online History
Solo Videos
The series started on May 26, 2014 as a solo project on his secondary channel formerly named "Oney's Video Hole", with Dark Souls [1] as the series pilot. Besides his solo series, he occasionally has guests, mostly animator friends such as PsychicPebbles, Egoraptor [2], and Spazkid,


Ding Dong & Julian's Debut
Ding Dong first appeared on his second episode of Second Life: "Turn off your Music," but he was first introduced on April 16, 2016 as a guest on his Super Mario 64 Multiplayer Mod playthrough.


Ding Dong was first depicted as a worm-like creature in the video thumbnails of their Chronicles of Mystara playthrough[3].

On August 4th of the same year, Julian Marcel was first introduced as a guest in their Luigi's Mansion playthrough, together with Ding Dong and SuperMega hosts Matt Watson and Ryan Magee. In the thumbnail, Julian is depicted similar to his actual self, while Ding Dong's appearance seems similar to a Rabbid. From that video onward, both Ding Dong and Julian became recurring members on most of the channel's videos.


His connections with Arin Egoraptor Hanson and Ross "RubberNinja" O'Donovan have caused his appearances in Game Grumps, as well as Ding Dong and Julian. The three of them altogether first appeared on May 18, 2017 in the second episode of Doodle Doods, a subseries in the Game Grumps channel. A day after the video was uploaded, they made another appearance in one of the most viewed episodes of Grumpcade, known for its darker tone in humor compared to the usual Game Grumps episodes.


Fandom
Some part of the fanbase came from the fans of Oney's animation, and many fans of Game Grumps became fans of Oney Plays due to their features in subseries Grumpcade and Doodle Doods. The subreddit /r/OneyPlays was created on July 14, 2014, and currently has more than 8,000 subscribers.[4] Fans have also animated their favorite parts of the channel's videos.


Totally Tubular Collab
On August 1, 2017, Tumblr and Twitter artist blabberdookie opened applications for the Totally Tubular Collab: a non-profit collaboration project in which the Lord of the Rings DOS episode of the channel will be animated in 5 to 25 second clips by various artists, similar to "Animate-A-Grump" from Game Grumps and "The Mama Luigi Project".[5]



Reputation
Chris is mostly known as his Newgrounds & YouTube alias "OneyNG", known for his adult-themed animations on YouTube and for creating the online shows Leo and Satan and Hellbenders (in collaboration with PsychicPebbles.


Julian is also an animator and artist, with both freelance and professional experience.[6] Together with Ding Dong, they launched a Patreon for their independent game development team called Wan Wan Games, with Julian handling the art, and Ding Dong handling the coding[7]. Julian announced the Patreon page on March 12, 2017 via
DeviantArt [8]. The day after Julian's post, Ding Dong also announced it via Twitter[9].



Related Memes
Crash Bandicoot "Woah"
Crash Bandicoot "Woah" refers to a series of videos featuring audio of Chris saying "woah!" dubbed over the video game character Crash Bandicoot.


Oh, Fuck You Luigi
Oh, Fuck You Luigi is a misheard quote from Super Mario Bros. Super Show in which Mario, played by Lou Albano, says "Oh, thank you, Luigi," but his inflection makes it sound like he is saying "Oh, fuck you Luigi." The clip has become notable online and has grown into an interesting piece of trivia for fans, particularly the Let's Play community.


Yiiking Out
Yiiking Out refers to a sprite of Yiik: A Postmodern RPG protagonist Alex grabbing his head with two hands and holding his mouth agape as if he is screaming. Popularized by the OneyPlays' playthrough of the game, the sprite was dubbed "yiiking out" on the /r/OneyPlays subreddit and later gained prominence as a reaction and as source material for redraws and remakes. The phrase is also used as the online slang counterpart for "freaking out."



Notable Videos
Search Interest
External References