About
Skullgirls is a fighting game featuring anime-influenced animation and several playable female characters. After its initial release in 2012, the development team launched a successful crowdfunding campaign to add additional characters and features to the game.
History
Skullgirls was formed as a collaborative project between illustrator Alex "o_8" Ahad, who had been designing video game characters since high school, and tournament player Mike "Mike Z" Zaimont, who had been developing a game engine in his spare time. A demo version of Skullgirls was put on display at the 2011 Electronic Entertainment Expo (shown below).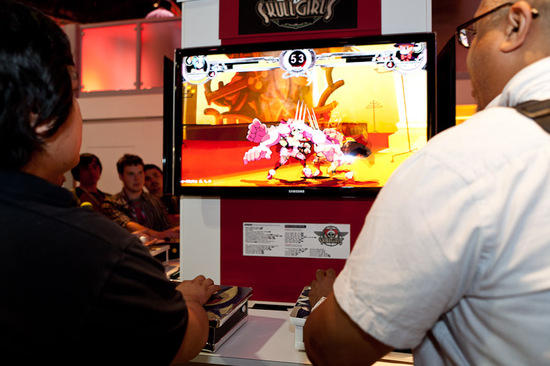 On April 10th, 2012, Skullsgirls was released through the PlayStation Network digital media delivery service and on Xbox Live Arcade the following day. In November, the entire Skullgirls development team reformed under the new company Lab Zero Games in response to being laid off after a series of lawsuits. On February 14th, 2013, the game was released on the PlaySation Network in Japan. On July 4th, a public beta test was launched for a Microsoft Windows version of the game. On August 22nd, the official Windows release was unveiled by the Japanese video game and anime company Marvelous AQL.
Online Presence
On January 31st, 2011, a Facebook[2] page titled "Skullgirls" was created, which gathered more than 34,200 likes in the next three years. On June 2nd, the SkullgirlsGame YouTube[7] channel was launched, gaining upwards of 1.98 million video views and 10,200 subscribers in the following 15 months. On June 11th, the Skullgirls Wiki[6] was founded. On November 5th, the /r/skullgirls[1] subreddit was launched by Redditor Klisk, which accumulated more than 3,300 subscribers in the next year. On January 30th, 2013, the "Official Skullgirls" Tumblr[3] blog was created. As of September 2013, the @Skullgirls Twitter[8] feed has garnered over 15,600 followers and more than 40 Skullgirls-related fanfictions have been submitted to the website FanFiction.net.[9]
Indiegogo Campaign
On February 25th, an Indiegogo[4] campaign was launched asking for $150,000 in funding to create a new character for the game. On February 27th, the video game news blog Giantbomb[13] published an article about the the fundraiser, noting the development team's past legal troubles. By March 27th, the fundraiser had reached over $828,000 in donations, allowing for the introduction of five new characters. On May 28th, the video game blog Kotaku[5] published an article about the campaign's success, which reported that the developers of a My Little Pony: Friendship is Magic game would be allowed to use Skullgirls engine for free as a result of the fundraiser.
Fan Art
On DeviantArt, over 11,000 deviations have been submitted under the tag "#skullgirls"[10] and the official Skullgirls page[11] has more than 1,200 members.






Search Interest
External References
Recent Images 1,935 total