This submission is currently being researched & evaluated!
You can help confirm this entry by contributing facts, media, and other evidence of notability and mutation.
About
Space Jam: A New Legacy is an upcoming children's live-action / animated comedy film sequel starring NBA athlete LeBron James and iconic characters from the classic cartoon series Looney Tunes directed by Terence Nance.[7] It is the first sequel to the 1996 film Space Jam.
History
On November 15, 1996, Space Jam was released. The film stars Michael Jordan, Larry Bird, and Bill Murray and features famous Looney Toon characters such as Bugs Bunny and Daffy Duck.
Reception
Title Reveal
On April 30th, 2020, LeBron James revealed the title and logo for the film in a Twitter video. The post received more than 184,000 likes and 33,000 retweets in less than 24 hours (shown below).
2021! 🐰🥕🎥🍿👑 pic.twitter.com/4pljFlGtvr

— LeBron James (@KingJames) April 30, 2020
Online Presence
On November 18th, 2013, "Space Jam 2" began to trend on Twitter after a rumor[1] surfaced in the social media that a sequel to the 1996 film is in production for release in 2014, starring LeBron James in the leading role. That same day, a fan-made poster for the supposed film also began circulating online, giving further credence to the widespread rumor. However, the rumor was soon dismissed as a hoax, with some tracing the source of its origin to a Q&A session with LeBron James on Twitter, during which he was quoted as saying, "I love that movie. Wish I could do Space Jam 2!"

On May 2nd, 2016, Hollywood Reporter[2] published an exclusive story revealing that Justin Lin, the American filmmaker best known for his role as the director in The Fast and the Furious film franchise, is working on a script for Space Jam 2, for which he will also serve as the director and executive producer, along with co-writers Andrew Dodge and Alfredo Botello. The article also revealed that LeBron James has been cast for the lead role in the film, confirming the years-long rumor that intensified after his company SpringHill Entertainment signed a deal with Warner Bros. in July 2015. The report of the sequel production was subsequently picked up by several entertainment news outlets and met with varying reactions, with Deadspin[3] projecting a pessimistic outlook in an article titled "Space Jam Was Bad, The LeBron Remake Could Be Worse," while the keyword "Space Jam 2" landed the #9 spot on Google Trends' Hot Searches for that day.
On September 19th, 2018, LeBron James' company SpringHill Entertainment announced that Space Jam 2 was coming via a tweet that showed a locker room (shown below). The lockers showcased Bugs Bunny, LeBron James, director Terence Nance, and producer Ryan Coogler, who also produced Black Panther.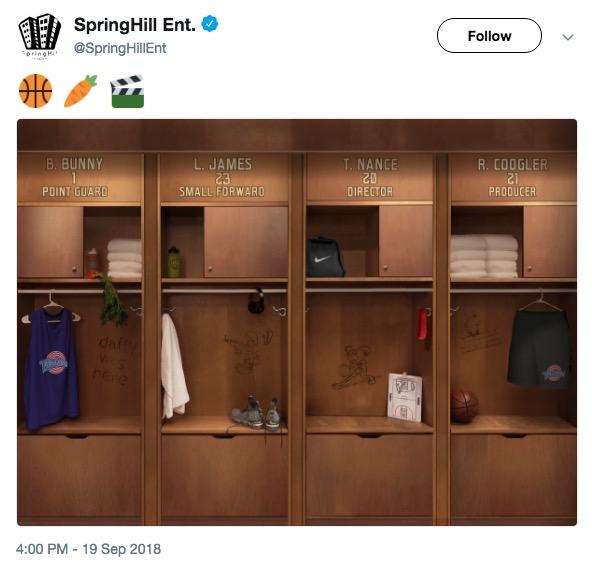 The Hollywood Reporter[2] reported that day that production would begin in the beginning of 2019. Of Coogler, James said, "I loved his vision" for Black Panther. He also said that when he was a kid growing up in Akron, Ohio, there were no black superheroes. "So for Ryan to be able to bring that to kids, it's amazing."
On February 21st, 2019, Spring Hill Entertainment[4] announced the release date for Space Jam 2 (shown below). The tweet garnered 39,000 retweets and 75,700 likes in a day.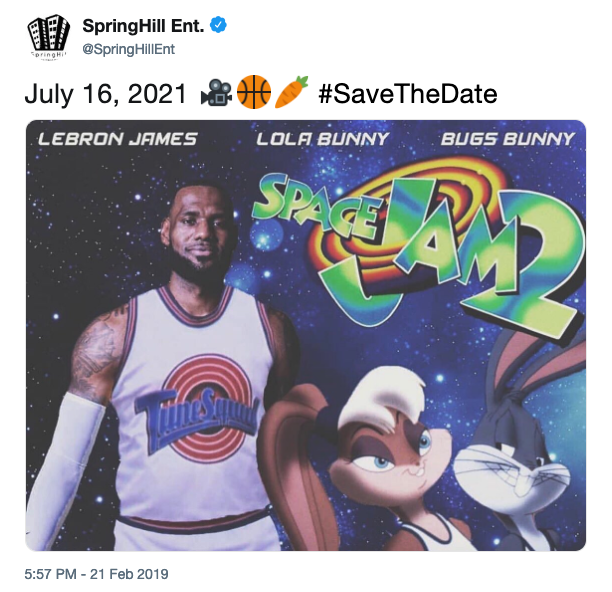 First Trailer
Warner Bros. released the first trailer for Space Jam: A New Legacy on April 3rd, 2021 (shown below). The trailer was criticized and mocked for showcasing a wide array of characters from pop culture, drawing derisive comparisons to Ready Player One. In particular, a cameo of the droogs from A Clockwork Orange drew ire from fans, as the group seemed particularly out of place in a children's movie.
Big Chungus Cameo
After the film released on July 16th, 2021, fans noticed that Bugs Bunny briefly turns into Big Chungus during a scene (shown below).
Fandom
On August 19th, 2015 Rolling Stone[10] reported on the continued popularity of the Space Jam Website since its start in the 1990s.
Artists on DeviantArt[8][9] began creating mock up posters and fan art for the sequel (shown below).


After the release date announcement on Twitter, fans of the first movie expressed their excitement and dread. On February 21st, 2019 @SI_ExtraMustard[5] posted an image of actor Adam Sandler sitting amongst children with the caption "Me in the theatre watching Space Jam 2" which received 2,490 retweets and 7,200 likes in a day (shown below, left). That same day, NBA writer and reporter Sean Highkin[6] took to Twitter to write "Space Jam 2 is a bad idea with very little upside" (shown below, right). The tweet gained 160 retweets and 850 likes in a day.


Lola Bunny Redesign Controversy
Lola Bunny Redesign refers to a controversy surrounding the redesigned version of the character Lola Bunny in the 2021 film Space Jam: A New Legacy in which she appears less sexualized compared to her version in the 1996 film Space Jam. The change in the design was followed by a viral debate on social media, particularly on Twitter, in March 2021.
Search Interest
External References