About
Sugoi Dekai is a Japanese phrase meaning "So big!" in English, and is sometimes used to mean "Great!" The phrase became associated with Uzaki Hana from Uzaki-chan Wants To Hang Out!, a short character with large breasts who wears a shirt with the phrase, which lead to the shirt being combined with other large-breasted anime characters similar to Mega Milk.
Following the release of the anime, some viewers found the character's design inappropriate, and did redesigns of the character to make her look older. However, these were widely mocked and led to a surge of edits featuring the "Sugoi Dekai" shirt.
Origin
The Uzaki-chan manga debuted on Niconico in December of 2017, and began serialization on July 9th, 2018. An anime adaptation by Studio ENGI directed by Kazuya Miura was announced by Kadokawa Corporation on February 3rd, 2020, and premiered in July of 2020. In many of the manga's covers, including the first volume (shown below, left), Uzaki can be spotted wearing her characteristic shirt.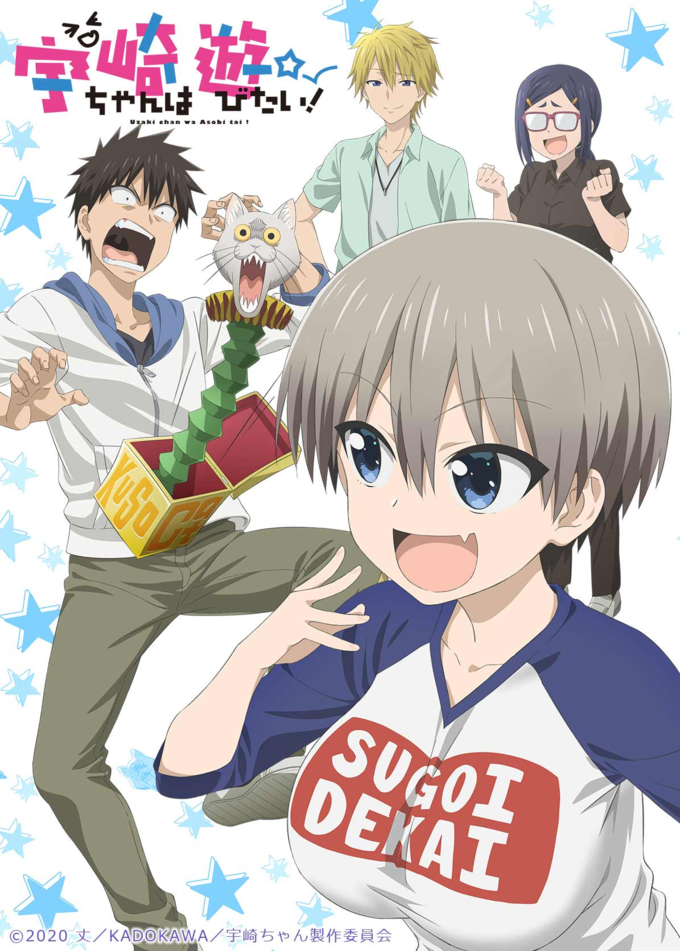 Spread
Following the release of the anime, there was an influx of artists drawing characters in Uzaki's characteristic shirt, similar to Mega Milk; at times placing them next to a character with small breasts for contrast. Notable examples of this trend include versions by Twitter users @toneeartwork[5] on July 9th, featuring Artoria and Mordred from Fate Grand Order; and @tabakko[6] on July 21st, featuring Kiryu Coco and Amane Kanata from Hololive; which gathered respectively over 56,500 and 22,400 likes as of August 14th.


Some viewers took issue with Uzaki's character design and that she acted young, leading them to attempt to redesign the character. For example, on August 10th, 2020 user @catlateral_[1] posted their redesign, gaining over 3,800 retweets and 8,700 likes (shown below, left). User @ZeroT_H[2] posted a compilation of Twitter users posting redesigns, gaining over 4,100 retweets and 22,000 likes (shown below, right).


The edits led to several redraws meant to emphasize what viewers saw as the poor quality of the upset artists' work. For example, on August 13th, user @Trashqueen_01[3] posted a redraw making the character look like she came from Big Mouth, gaining over 2,300 retweets and 19,000 likes (shown below, left). User @DSchnack[4] posted a variation showing Peter Griffin wearing the Sugoi Dekai shirt (shown below, right).


On August 13th, user @skurletonVA posted a video parodying the entire drama, gaining over 5,300 retweets and 16,000 likes (shown below).
soldier dekai

credit to thef1amethrOwer</a> for making the funny image <a href="https://t.co/QFG8PcQ7wn">pic.twitter.com/QFG8PcQ7wn</a></p>&mdash; Gehrig Schreiber (skurletonVA) August 13, 2020
Various Examples






Search Interest
External References