Throwing Bricks at Homeless People
This submission is currently being researched & evaluated!
You can help confirm this entry by contributing facts, media, and other evidence of notability and mutation.
About
Throwing Bricks at Homeless People is a catchphrase and ironic meme concept used in jokes and memes talking about the activity as if it's something that is fun and good to do, as well as referentially about preparing for and planning to later engage in it (similar to drunk driving memes). The phrase first started to see use on iFunny before being spread around on TikTok in early 2023.
Origin
On September 5th, 2022, iFunny user mistershitnuts[1] uploaded a variation of the Mercy Offers a Hand meme in which the caption implies that if nothing feels fun anymore, throwing bricks at homeless people would be the final thing to give you enjoyment. The post earned over 13,500 likes in eight months (shown below).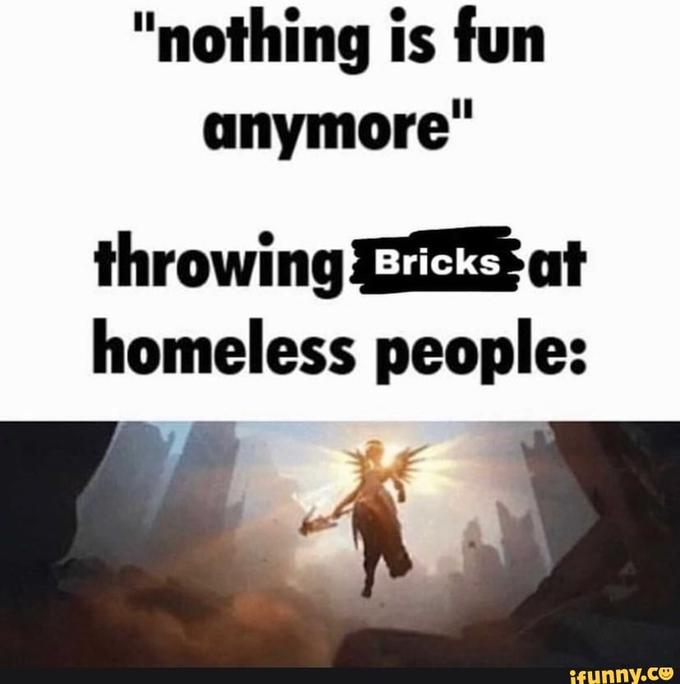 Spread
The concept and catchphrase would remain relatively minuscule until early 2023, with iFunny user SirPsycho[2] uploading an I Get It Now meme using Danny DeVito understanding the true joy of throwing a brick at homeless people. The meme, posted on February 18th, 2022, would quickly gather over 14,700 likes in one month, helping the phrase to kick off as it began to get crossposted to TikTok in the following weeks (shown below).

On March 17th, 2023, TikToker notsodilpy2[3] uploaded a TikTok of a Nazi getting out his uniform and putting it on with the caption "There will be Bricks to throw at homeless people at the function" to showcase him getting ready to go, gaining over 85,000 likes in two weeks (shown below).
Various Examples
Search Interest
External References
Recent Videos
There are no videos currently available.