About
Tomboy refers to girls and young women who exhibit characteristics or behaviors that considered typical of boys, which may include interest towards contact sports, competitiveness, an inclination for fighting and liking for bawdy humor. Starting in 2019, memes presenting tomboys as very desirable partners gained popularity online, with the trend gaining even larger presence online in 2020.
Origin
The origins of the word "tomboy," originally used to refer to, "brash, boisterous, or self-assured youth," date to the mid-16th century.[1] The first printed use of the term appears in Nicholas Udall's play Ralph Roister Doister, published in 1567. The word gained its modern meaning in the 19th century, used to refer to girls who would break the accepted code of conduct such as wearing "sensible clothing" and eating a "wholesome diet." In its modern meaning, the word can apply both to girls and young women.
Spread
While the memes about tomboys, including those in which presenting a tomboy girlfriend as very desirable, existed prior to 2019,[4] the trend started gaining pronounced spread in the second half of 2019, with Twitter and iFunny serving as the primary platforms for the tomboy infatuation. iFunny user ilunachan[6][7] has been a major driving force behind the popularization of the tomboy memes, making multiple viral memes and hornyposts about tomboys since November 2017.
In the second half of 2019, Need Tomboy CAPTCHA and Mio Honda memes became the major contributing factors behind the trend; for example, on September 11th Twitter user @HBJohnXuandou[2] posted the image featuring River City Girls character Yoko, gaining over 200 retweets and 920 likes in ten months (shown below, left). On October 17th, iFunny[3] user ISIS_Chan posted an X Fandom Is Dying meme referring to Mio Honda as a tomboy that received over 2,000 smiles in nine months (shown below, right).


The trend gained a broader presence online in 2020, with the amount of hornyposting about tomboys significantly increasing, particularly on Twitter (example shown below, left). Additionally, a countertrend denouncing those infatuated with tomboys as desiring a "boyfriend with tits" gained traction online. For example, on March 11th, 2020, Redditor[5] youngreezy29 posted a meme on that gained over 27,500 upvotes in r/animemes in three months (shown below, right).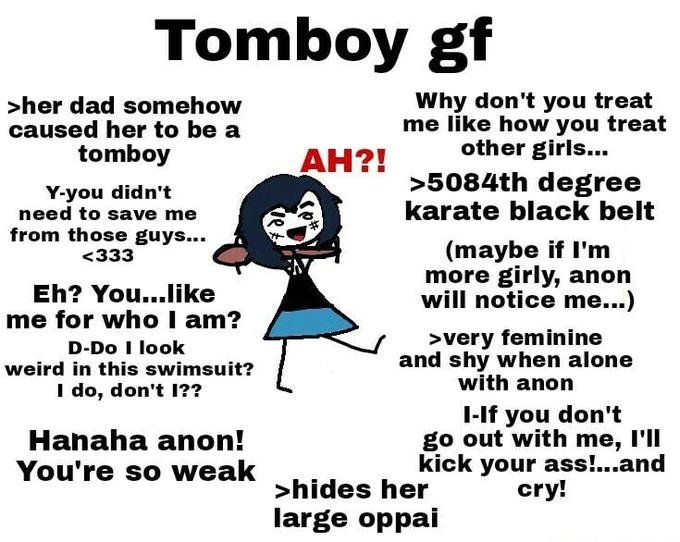 Related Memes
Need Tomboy
Need Tomboy is a CAPTCHA meme where the CAPTCHA reads "Need Tomboy." It is paired with a picture of a man looking stressed while a semi-transparent tomboy character from pop culture stands behind him.



Tomboy Outback / Tomboy Hooters
Tomboy Outback, a variation of Femboy Hooters meme, refers to memes imagining a restaurant which serving staff consists entirely of tomboys.



Mio Honda
Mio Honda is a character from The Idolm@ster Cinderella Girls best known in memes for the Mio Honda Fried Chicken Video. Mio Honda being labeled a Tomboy is a recurring trend in the memes featuring the character.
Various Examples


Search Interest
External References