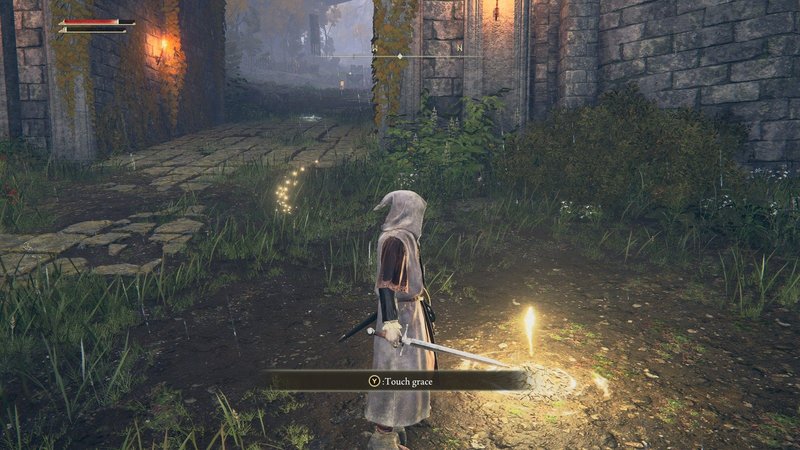 This submission is currently being researched & evaluated!
You can help confirm this entry by contributing facts, media, and other evidence of notability and mutation.
About
Touch Grace is a prompt in the video game Elden Ring given to a player when they come across checkpoints, which are called "Sites of Lost Grace." Due to the catchphrase's phonetic similarity to the meme Touch Grass, the phrase was used in jokes and memes by players after the game's release, particularly in the No Maidens parodies of the L + Ratio copypasta.
Origin
In Elden Ring, released February 25th, 2022, players will come across numerous checkpoints in the game called "sites of Lost Grace."[1] These are similar to the bonfires in Dark Souls games. When a player approaches a site of Lost Grace, they are given the prompt "Touch Grace" to activate the checkpoint (shown below).

Jokes about the similarity between the phrase "touch grace" and the meme "Touch Grass" (an alternative to "go outside") appeared that day. For example, user @JohnWolfeYT[2] posted, "All you people who have been sitting inside playing Elden Ring all day need to touch grace," gaining over 80 retweets and 1,500 likes (shown below).

Spread
Many early uses of the phrase "Touch Grace" in jokes appeared in variations of the L + Ratio copypasta, where many of the words were replaced with Elden Ring terms, such as "No Maidens." For example, user @dekillsage[3] tweeted, "L + ratio + you have no maidens + you're tarnished + touch grace," gaining over 8,700 retweets and 52,000 likes (shown below, left). User @bloodberry_tart[4] made a similar joke, gaining over 110 retweets and 1,400 likes (shown below, right).


The phrase led several commenters to remark that "No Maidens" and "Touch Grace" game seemed remarkably well-suited to current social media parlance. User @Mythrrinthael[5] wrote, "One of the most impressive things about Elden Ring not directly related to its "physical" content, is how readily it fits into the bantering zeitgeist. Shit like "You, unfortunately, are maidenless" and "Touch grace". Slid into the collective unconsciousness like a glove" (shown below, left). User @TheChowderhead[6] wrote, "Elden Ring begins by killing you, telling you to touch grace, and then the first NPC you actually talk to calls you Maidenless. Does it stutter? Sure. Did the game just ratio me? Absolutely. 20/10, greatest game of all time."


Various Examples






Search Interest
External References
Recent Videos
There are no videos currently available.