This submission is currently being researched & evaluated!
You can help confirm this entry by contributing facts, media, and other evidence of notability and mutation.
About
Donald Trump's Fake TIME Cover refers to a series of photoshop parodies of a phony TIME magazine cover bearing President Donald Trump's face that Trump hangs in various Trump properties.
Origin
On June 27th, 2017, The Washington Post newspaper reported that President Donald Trump hangs a fake TiME magazine cover with his face on in at least two of his golf resorts.[1] The image (shown below) features the headlines: "Donald Trump: The 'Apprentice' is a television smash!" "TRUMP IS HITTING ON ALL FRONTS . . . EVEN TV!" "Obama's Next Move: Can He Curb Health-Care Costs?" "How stressed is your bank? A checkup." "Global Warming: A New Age of Extinction." The issue is dated March 1st, 2009, despite the fact that there was no issue that week. TIME confirmed that the cover is fake.

Spread
When the Post shared the article on Twitter, the tweet (shown below) received more than 17,000 retweets and 25,000 likes in less than two days.[2] The tweet also featured a gif that pointed out the real TIME cover from that week, which features actress Kate Winslet.
A Time Magazine with Trump on the cover hangs in his golf clubs. It's fake. https://t.co/GbabQP5hXQ pic.twitter.com/EFTEcyasRE

— Washington Post (@washingtonpost) June 27, 2017
Shortly after the tweet went out, Twitter user @Scout_Finch[3] photoshopped a cover of ESPN magazine, featuring an unflattering photograph of President Trump playing tennis. The post (shown below, left) received more than 300 retweets and 1,800 likes.
Later that day, Twitter user and Virginia congressman @GerryConnolly[4] posted a parody with himself on the cover, and a caption that says "Wow, my first cover of Time. Asked my staff to frame this and hang it in all four of my offices." The post (shown below, right) received more than 6,100 retweets and 22,000 likes.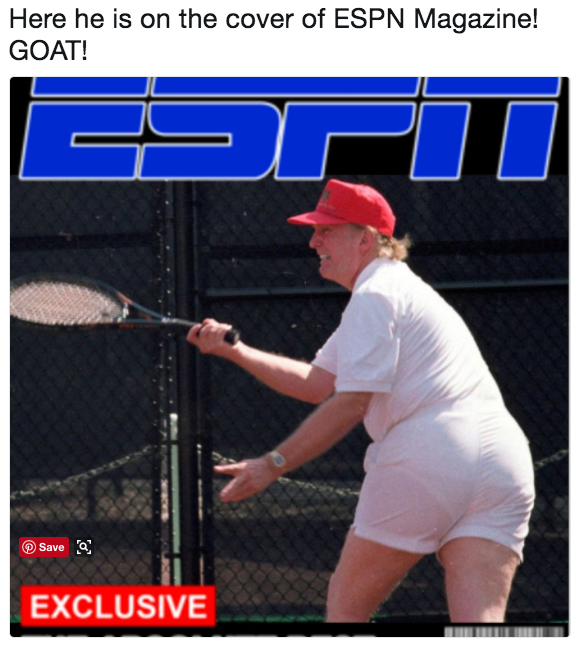 Throughout the day, more people photoshopped different magazine covers that parody and mock the president. Twitter user @ProBirdRights posted a parody featuring a Bird instead of Trump, garnering more than 22,000 retweets and 53,000 likes.

The Washington Post later published a follow-up story about the memes.[5] Other news outlets covered the fake cover, including CNET,[6] Fox,[7] TIME[8] and more. Twitter published a Moment documenting the story and the parodies.[9]
Various Examples






Search Interest
External References
Recent Videos
There are no videos currently available.