Warning: This page contains material that may be considered not safe for work.
About
Video 1444, also known simply as 1444, refers to a suicide video of a Russian VK user Gleb Korablyov who on October 17th, 2019, live-streamed killing himself with a rifle. After the video was reuploaded as "1444" by now-deleted YouTube channel GORE on the same day, it received viral spread online as a shock video, also gaining notoriety of being cursed among Spanish-speaking users.
Origin
On October 17th, 2019, Russian VK user Gleb Korablyov launched a live broadcast on the platform. During the broadcast, Korablyov took a Saiga semi-automatic rifle, pointed it to his head, warned a person to wait before notifying his parents of his suicide and shot himself in the head. Before killing himself, Korablyov made a reference to a Russian suicide-related meme "Nya, poka!" ("Nyan, bye!")[1]



Nikita, if you'll tell the parents [about this] too quickly, I'll get you from beyond the grave. I know that you have their phone number. Anyway… How does the saying go? Nyan, bye!
Spread
On the same day, the suicide footage was posted by Plokhie Novosti 18+ ("Bad News 18+") Telegram channel and VK group,[2][3] with more Russian Telegram channel reporting on the incident on the same day.[4][5] Starting on October 17th, several discussions of the video were posted on Russian imageboard 2ch.[6][7][8]

I was lurking around VK this morning when I stumbled upon a live stream by 18-year-old Moscow lyceum student Gleb Korablyov (his VK page has already been taken down by his mother).
Approximately three minutes in the guy shouts "Nyan, bye!", puts a Saiga rifle to his head and blows his brains out.
According to how long the video lasts, the police arrived only 2.5 hours later.
On October 17th, 2019, now-deleted YouTube channel GORE reposted a short clip of the video as "1444",[9][10] with the video gaining over 151,000 views in three days before being taken down by the YouTube moderators.[14]
Starting on October 20th, 2019, the video received futher spread through discussions on social media. Similar to Momo, it was rumored among Spanish-speaking internet users that the video was cursed by the original uploader on the deep web, and that the curse could only be lifted from the viewer by commenting the date on the video.[11][15] At that time, multiple users made posts warning against watching the video. For example, Twitter user @irkepoc gained over 13,700 retweets and 10,900 likes in two days (shown below, first on the right).[12]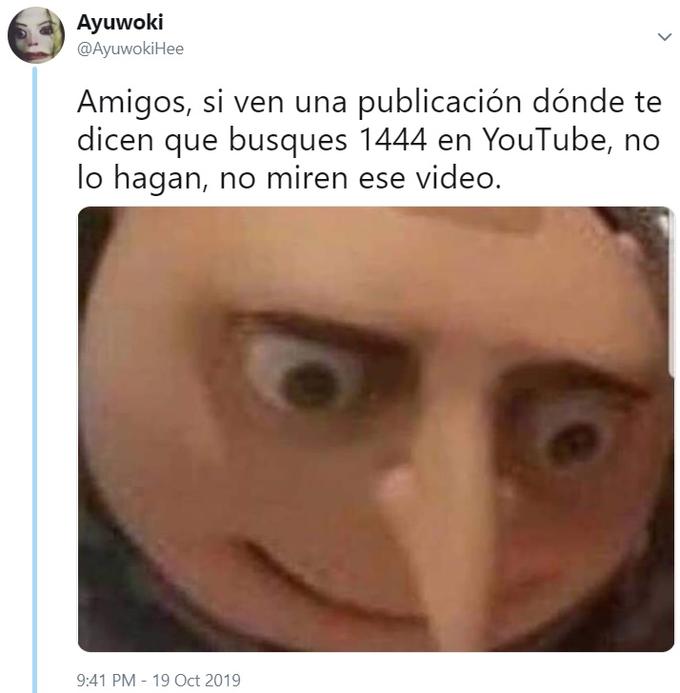 In the following days, 4chan users noticed an influx of videos named in a similar fashion (e.g. "1555", "1443") containing obscure clips, child pornography and other sensitive content (thread shown below, left).[13] An anonymous 4chan user provided a translation of a 2ch post,[7] which claimed that Korablyov's reason for suicide was a quarrel with his girlfriend (shown below, right).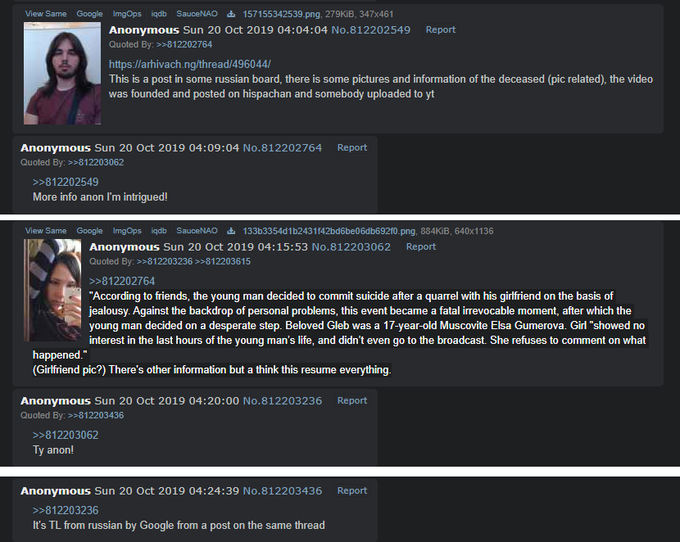 On October 20th, 2019, online investigation YouTube channel ReignBot reported on the video and its "cursed" status, gathering over 280,000 views as of November 4th, 2019 (shown below, left).[14] On that same day, Argentinian YouTube commentator and musician Magnus Mefisto covered the video on October 20th, 2019, gaining over 8 million views as of November 2nd, 2019 (shown below, right).[15]
The viral phenomenon gained popularity among Spanish-speaking users and was covered by many Spanish-speaking YouTubers, including popular creators such as El Rincón de Giorgo[16] and DrossRotzank. [17] DrossRotzank subsequently mocked and criticized YouTube for striking channels and taking down videos for reporting on the video.[18][19]

TikTok Spread
Starting in early December 2019, the video became a popular subject of Don't Google posts on TikTok, with posts baiting the users into searching Video 1444 online (examples shown below).[20][21]
As a result, several unconnected video titled 1444 began trending online. For example, a Vimeo video titled "1444" filmed in Bedford received over 177,000 views (comments shown below, right).[22] A woodcutting YouTube video baiting viewers into thinking that they are about to witness a beheading received over 377,700 views (shown below, right).[23]

Search Interest
Searches for both "video 1444" and "1444" peaked during October 19th-20th, 2019.
According to Google Trends, searches for "1444" increased slightly between January 2010 and June 2012, primarily in Spain, potentially due to queries about scam phone calls. Small spikes on November 2012, April 2014, and December 2016 correspond to queries about winning numbers of Brazilian lotteries Mega-Sena, Lotomania and Lotofácil. In December 2019, the searches spiked in popularity due to spread in "Do Not Google" posts on TikTok.
External References
Recent Videos
There are no videos currently available.