White Girls Fuck Dogs / Dogpill
Warning: This page contains material that may be considered not safe for work.
About
White Girls Fuck Dogs is a cliche referring to the belief that women, especially white women, supposedly like to have sex with large dogs, and memes referencing that stereotype. The meme achieved popular recognition in the early 2020s, supported by news stories of women sexually abusing dogs, and by online videos in which women admitted to having sex with canines. Within the incel community, a belief that women would rather have intercourse with dogs than with unattractive men is known as the slang term Dogpill.
Origin
While multiple earlier discussions of women having sex with dogs can be found on various online forums,[1] the belief largely stems from a September 10th, 2015, video uploaded[2] by YouTuber Whitney Wisconsin titled "10 Reasons Why Girls Should Have Sex With Dogs." The video accumulated over 4.7 million views before deletion in late 2018, while a reupload[3] from December 8th, 2015, has gained over 400,000 views in four years (shown below).
Interest in the video increased in March 2016 after YouTuber LeafyIsHere uploaded[4] a video on March 12th of that year reacting to it (reupload shown below, left). Leafy and Keemstar then released several videos talking about or mentioning Wisconsin. On April 4th, 2016, Keemstar uploaded[5] a video featuring both Leafy and Wisconsin as guests that garnered over 4.5 million views prior to its deletion in early 2021.
Spread
Following the Whitney Wisconsin video and online reactions to it, memes about white women having sex with dogs gained initial spread online, primarily on iFunny. For example, on September 6th, 2016, iFunny[5] user youmi posted a meme of Rikka Takanashi holding out a shirt reading, "White girls fuck dogs." The post gained over 30 upvotes in seven years (shown below, left). On November 26th, iFunny[6] user WasRussia posted another meme that received over 20 smiles on the app in that period (shown below, right).


On February 17th, 2017, YouTuber Rusty Cage uploaded[7] a satirical song titled "White Girls Fuck Dogs" to YouTube (since removed), also uploading it to Soundcloud,[8] where it received over 117,000 streams in six years. The song largely contributed to the recognition of the phrase "White Girls Fuck Dogs" and the acronym "WGFD."
White girls fuck dogs (they fuck 'em)
White girls fuck dogs (they really fuck 'em)
White girls fuck dogs, white girls fuck dogs
White girls fuck dogs
Multiple YouTube reuploads of the song were made in the following years. For example, a January 24th, 2018, reupload[9] of the song gained over 500,000 views in five years.
On October 8th, 2018, a definition for the term "dogpill" was added to the Incels Wiki[10] in which it was
described as a "theory that women like to fuck dogs more than incels." The earliest found time the term was used in its new context was on January 14th, 2019, in a 4chan /mu/ thread.[11] On March 21st, 2019, the New Stateman published[12] an article describing the evolution of the dogpill theory within the incel community.
Meanwhile, White Girls Fuck Dogs memes continued online spread, supported by online videos and posts in which women mentioned having sex with dogs. For example, in August 2019, TikToker @y2kerrigan posted a TikTok in which she claimed to have had sex with her ex-boyfriend's dog (screenshots shown below). The post went viral on social media,[13] causing a surge in the meme's popularity.

@AKnottyPrincess
On January 2nd, 2023, Twitter user @AKnottyPrincess tweeted that she is coming out as a "trans canine" after having more sex with dogs than with human males (account suspended; tweet shown below), posting more similar tweets in the following weeks (example shown below, right).[14][15]


The tweets were followed by viral reactions on Twitter. For example, on January 2nd, YouTuber Rusty Cage tweeted[16] that he was getting notified of @AKnottyPrincess by other users, with the tweet gaining over 300 retweets and 7,100 likes in four months (shown below). On January 4th, Twitter user @dylandutcher wrote that @AKnottyPrincess might be "the best troll account." The tweet garnered over 690 likes in four months.

Denise Frazier
On April 5th, 2023, 19-year-old Denise Frazier was arrested in Jones County, Mississippi after filming herself having sex with a dog outside of the church. The story went viral on social media,[17][18] prompting another surge in White Girls Fuck Dogs memes.

Various Examples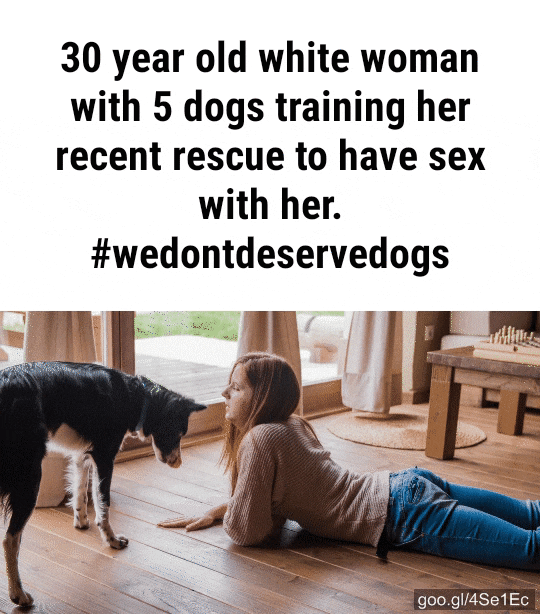 Search Interest
External References