This submission is currently being researched & evaluated!
You can help confirm this entry by contributing facts, media, and other evidence of notability and mutation.
About
Winnie The Poohing also known as Going Winnie The Pooh Style or Donald Ducking is a slang term used to describe someone who is wearing a shirt but no pants or bottoms at all, like the cartoon characters Winnie the Pooh or Donald Duck. The idea has been the subject of jokes throughout the 2010s.
Origin
The exact origin of the term "Winnie the Poohing" and "Donald Ducking" is unknown. It is based on the fact that cartoon characters like Donald Duck and Winnie the Pooh, among many others, wear tops but no bottoms, an often frowned-upon fashion choice in real life. On February 9th, 2010, the term "Winnie The Pooh Style" was defined on Urban Dictionary[1] to describe this. On June 26th, 2011, the term "Winnie the Poohing" was defined on Urban Dictionary,[2] offering a comparable definition. A song about the various cartoon characters that don't wear pants called the "No Pants Dance" aired on Toon Disney sometime between 1998 and 2009 highlighting how humans should not follow their example (shown below).[3]
Spread
On November 23rd, 2020, The Graham Norton Show YouTube channel uploaded a clip from an interview with Nigella Lawson, Hugh Grant and Romesh Ranganathan where he learns about Winnie the Poohing, gaining over 386,000 views in just over a year (shown below).
On February 10th, 2022, Redditor winnie_the_pantsless made a post to /r/AmItheAsshole[4] where she describes how her boyfriend walks around the house with a shirt and no bottoms on at all and how she doesn't like it, seeing it as unsanitary and "weirdly dangerous," citing a time when he spilt hot cooking oil on his penis while cooking (shown below). On February 17th, MEL Magazine[5] published an article titled "DO THE MEN WHO LIKE TO 'WINNIE THE POOH' AT HOME REALLY DESERVE OUR SCORN?" where they explore the idea, inspired by the Reddit post.

Various Examples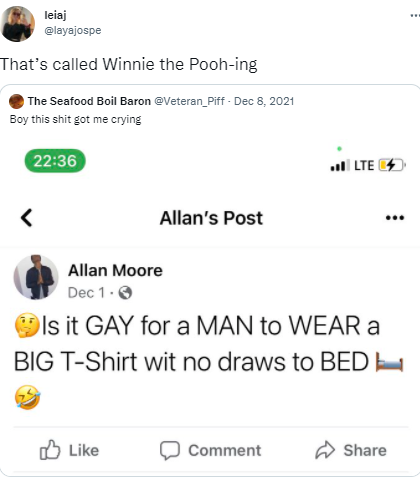 Search Interest
External References