You Just Enjoyed One of Hitler's Artworks
About
You Just Enjoyed One of Hitler's Artworks is an image macro series featuring various photographs with a top caption asking the viewer "That's a pretty good painting, right?", followed by a bottom caption revealing that they had "just enjoyed one of Adolf Hitler's artoworks."
Origin
On September 27th, 2010, The Telegraph reported that a collection of paintings made by "Adolf Hitler": were being sold auction later that month. The article included a picture of a watercolor painting showing a staircase outside of a home (shown below, left). On March 2nd, 2013, FunnyJunk[1] user trollypollyz uploaded the painting along with the caption "That's a pretty good painting, right? / You just enjoyed one of Adolf Hitler's artworks" (shown below, right). Within four years, the post gained over 59,000 views and 1,500 points.


Spread
The following day, Redditor coledog22 reposted the image to /r/funny,[4] where it gathered upwards of 1,000 points (83% upvoted) and 600 comments prior to being archived. On March 25th, 2014, the image was reposted to FunnyJunk[6] along with a screenshot of a Facebook user commenting "I did nazi that coming." On February 26th, 2015, the "No, you piece of shit" Facebook[7] page posted a picture of an anime character captioned with the Hitler's artwork copypasta (shown below).

On December 27th, 2016, the ShitpostBot 5000 Facebook[3] page posted a version of the image featuring a portrait photograph of YouTuber Jon Jafari (shown below). Within five months, the post gained over 2,800 shares and 2,000 reactions. On March 5th, 2017, Twitter user @Frektelfelms[5] submitted a painting of a Counter-Strike map with the "Nice painting, right?" caption (shown below). Within two weeks, the tweet garnered more than 3,500 likes and 1,000 retweets.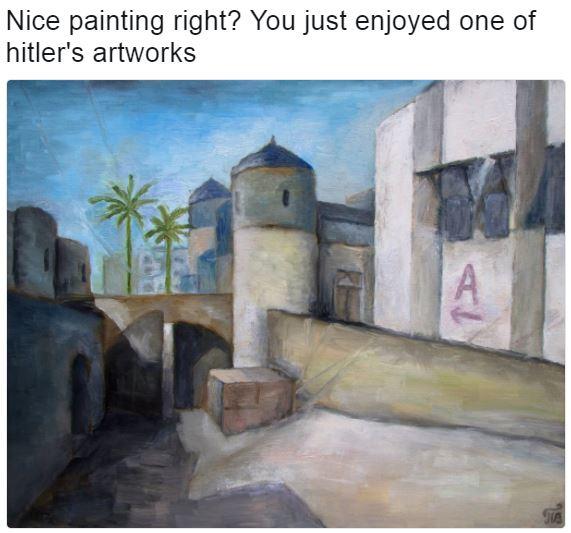 Various Examples






Search Interest
Not available.
Search Interest
External References
Recent Videos
There are no videos currently available.