Warning: This page contains material that may be considered not safe for work.

About
Zettai Ryouiki (Japanese: 絶対領域, lit. "Absolute Territory") is a term used to refer to the area of bare skin showing in the gaps between over-knee socks and a skirt or shorts. This quite well-known moe situation was born on the online otaku culture in 2001 and has since become popular with the general public as a fashion style since the late 2000s.
Origin
According to Pixiv Encyclopedia[1] and Nico Nico Pedia,[2] the earliest instance that used "Zettai Ryouiki" to express the area was found on an online diary by MIY, a famous contributor to the Japanese otaku-beloved desktop agents platform Ukagaka (伺か),[3] also called Nanika (何か) or Nise-Haruna (偽春菜) in those days. On March 21st, 2001, he uploaded a diary to his web page EXTRA STAGE, that used the term to praise the area of Mayura, a new user-made Ukagaka character which was gaining a lot of popularity just after its birth on the 9th of that month (shown below, left). 5 days later, he also uploaded a picture explaining the area that he pointed out (shown below, center).[4] In the following month, Mayura's creator Yume Hotaru added a description of Zettai Ryouiki to the official character sheet for her (shown, below, right).[5] He also mentioned, in a now-defunct 2005 blog post, that he came to know Zettai Ryouiki by MIY's diary, and then introduced it as one of the official features of his character.[6] Meanwhile, it's considered that the expression Zettai Ryouiki comes from Neon Genesis Evangelion, where several early guidebooks and Yoshiyuki Sadamoto's comic edition for the anime used it as a translation term for "Absolute Terror Field", which is also explained as "a holy area no one can intrude upon" in the 18th episode of the 1995 TV anime series.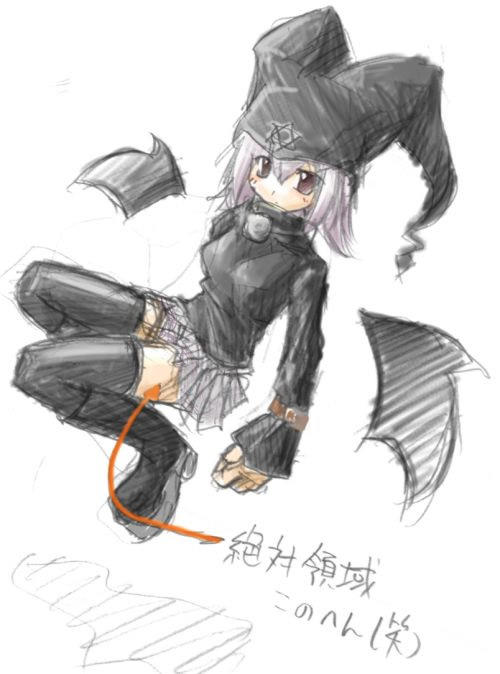 Translation:
As I said before, the area between a mini skirt and knee-socks is invincible. It's almost the Zettai Ryouiki of the God (lol
Via: EXTRA STAGE (March 21st, 2001) [4]
Led by the popularity of Mayura and dozens of Mayura-inspired Ukagaka agents wearing over-knee socks, her most characteristic feature, Zettai Ryouiki, established its concept on Ukagaka user communuty in 2001. The first doujin book for Zettai Ryouiki "the absolute area" (shown below, left) was released by doujin circle NF121[7] at Comiket in December 2001. Additionally, the online grossary on the website Hanataba Terrace uploaded a post about Zettai Ryouiki onn January 5th, 2002, which defined its golden ratio as "4:1:2.5" (length of mini-skirt : bare skin : length of over-knee socks above the knee).[8] Even after the popularity of the platform was declined, doujin convention projects dedicated to the moe concept started in the spring of 2005 followed by small conventions. "Zettai Ryouiki" (shown below, center)[9] and "Suteki Kuukan" (shown below, right)[10] were held on Osaka and Tokyo in the autumn of that year. However, the term had been a minor jargon among otaku groups till the first half of 2000s.



Spread
Japanese Wikipedia[11] explains that the further spreading of Zettai Ryouiki beyond the otaku communities began after the online otaku culture became to attract a lot of attention on mass media by the success of the Densha Otoko[12] TV drama in the summer of 2005. Even in major TV stations shows, the moe concept became to be reported as one of the remarkable examples in otaku culture (shown below). In addition, otakus' severe online backlash against Banpresto,[13] a Japanese toy company that filed 2 applications for trademark registration of the term "Zettai Ryouiki" in September of that year,[14] also led the further increase of visibility of the concept among non-otaku internet users. Both applications were rejected in June 2006 because the company didn't pay the registration fees.



Left: "The Akiba King Contest" from a Japanese TV variety show TV Champion[16] aired on September 15th 2005
Right: Tokoro-san no Gakkou dewa osiete kurenai soko'n tokoro aired on October 21st, 2005
Afterward, various kinds of Zettai Ryouiki-themed contents; such as an adult game (shown below, left), school girls or cosplayers photobooks/DVDs (shown below, center), and even PC cases (shown below, right); were released along with the popularization of moe culture in the commercial media in the late 2000s. In September 2009, a Japanese portal service published an article ranking men's favourite fetishes, where Zettai Ryouiki reached into the top of the ranking that was based on a questionnaire completed by 1,026 male members of the online marketing research service Goo Research.[15]



Against the backdrop of the large popularity among Japanese people which had been developed throughout 2000s, nowadays Zettai Ryouiki is widely recognized as one of the typical fashions for female characters in otaku contents. As of March 2016, the amount of illustrations tagged under the fashion on Japanese illustrators communities, such as Pixiv[17] and Nico Nico Seiga,[18] is more than 10,000 in total.
Unofficial Knee-high Socks Day
Since 2013, November 28th has been considered by some on the Japanese web as Good Knee High Socks Day. The day is considered to be the unofficial anniversary for high knee socks. While not specifically celebrating Zettai Ryouiki, the day does focus on a key component of the fashion style.
Absolute Territory PR
Absolute Territory PR (絶対領域広告) is an advertising technique developed by the Japanese advertising agency Wit in 2012, which utilizes the Zettai Ryouiki of women walking in Shibuya downtown as billboard space. The agency had recruited about 1,300 women in total and practiced the campaigns for Green Day (shown below, left),[29] the American comedy film Ted (shown below, middle)[30] and others between 2012 and 2013.



This weird advertising technique made headlines on online gossip news media[31][32] and was also reported in English news outlets such as Kotaku,[33] RocketNews24,[34] Daily Mail,[35] Yahoo[36] and The Guardian.[37]
Outside Japan
The earliest instances that reported Zettai Ryouiki on the English-speaking web are a post in Animesuki Forum[19] and a blog post by DarkMirage[20] in 2006. Citing the latter, a Singaporean's English blog Anime Desho Desho? proposed a grading method of Zettai Ryouiki in September of the following year.[21] TV Tropes entry[22] and other following blog/wikia articles are largely based on these blog posts. Urban Dictionary got a page for Zettai Ryouiki in March 2010.[23] And Reddit launched a subreddit dedicated to the fashion, r/ZettaiRyouiki, in March 2012.[24] As well as pixiv and niconico, DeviantArt has over 1,000 posts related to the fashion[25], and many of those user-created contents are reblogged/reprinted to Tumblr[26] and Danbooru/Gelbooru.[27][28]
Various Examples
Ideal Ratio
The oldest instance which explained the ideal ratio of Zettai Ryouiki is 4:1:2.5 is an article uploaded to a Japanese individual's website Hanataba Terrace on January 5th, 2002.[8] Since this explanation is cited in several books about fashions or online cultures published in mid-2000s, it's widely known like the officially-determined ratio.

Grading System
A grading system which defines Zettai Ryouiki in 5 levels by the length of the stockings or socks was originally proposed by a Singaporean's English anime blog Anime Desho Desho? (ADD) on September 25th, 2007.[21] Along with an additional grade S: A combination of Grade A Zettai Ryouiki, Twintail hairstyle and Tsundere personality. ADD also explained that only Grades A (and thus S) and B are considered as true Zettai Ryouiki. This ADD's grading system is sometimes treated as the official grading as well as the ideal ratio by Hanataba Terrace, while being modified a little. For example, some of the explanations add Grade F (ankle socks) to the chart.


Illustrations
For more images featuring the fashion, check out KYM Collection – Zettai Ryouiki



Search Interest
External References
Editor's Note: Registration is needed to browse the original videos/illustrations listed in this section.
All Videos 3 total
This gallery contains videos that may not be suitable for public viewing.
All Images 48 total
This gallery contains images that may not be suitable for public viewing.