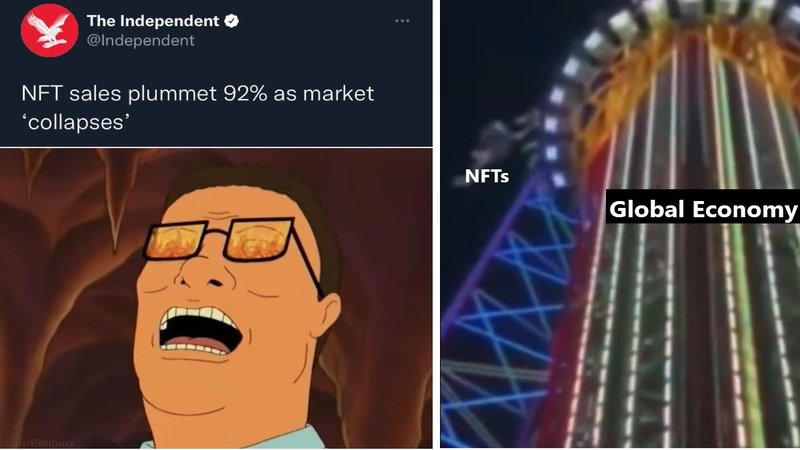 According to reports and market data, the NFT market might not just be dying, it could already be dead. This comes from a report pushed by The Independent, which looked at market buying and selling data of NFT projects from September till now, which showed a very steep 92 percent drop off in sales, while the amount of accounts that still own NFTs is also declining rapidly month to month.
This news was presumably music to the ears of people who absolutely loathe NFTs and are glad that the digital blockchain concept is reportedly collapsing. As such, many users around the web posted celebratory memes in response.
NFT sales plummet 92% as market 'collapses' https://t.co/ifb5gih9tR

— The Independent (@Independent) May 4, 2022
Me watching the NFT market collapse pic.twitter.com/avZd0yYYlY

— Jason Kelly (@ColouroftheIris) May 4, 2022
Who could have possibly foreseen the immininent collapse of the NFT market?

Unrelated, does anyone have a basement they need occupied?

— Sir Noah, the Ingenuous 🛡 (@SophicThunder) May 5, 2022
my biggest want from the collapse is all the NFT guys posting their meltdowns online, we need a new "apes gone." or "they went straight for my ape"

— transgender marx (@JUNlPER) May 3, 2022
Most of the chatter online surrounding the collapse of the NFT marketplace is centered around the companies that chased after NFT projects and the metaverse, such as Square Enix (which recently had a massive IP sale, getting rid of their property rights to Tomb Raider and many others), for the cash to then pump into future NFT project expansion.
square enix bank account after the nft market flop collapse pic.twitter.com/1FOsvVDvtp

— gonapeigh bebi (@umbrancIimax) May 5, 2022
absolutely love how many companies totally destroyed their PR in the last 3 years chasing NFTs as a new avenue of greed only for it to all collapse in a hideous hilarious failure almost overnight. Burned their bridges for absolutely nothing, just incredible.

— Windows 98 Tech Support (@Win98Tech) May 5, 2022
still finking about how square enix sold tomb raider for nfts just for the nft market to collapse like karma wasted absolutely no time pic.twitter.com/KDXeRnTbS4

— 𓆩♡𓆪 (@eIektrarex) May 4, 2022