This week, streamer Kai Cenat beat both Ninja's and Ludwig's subscriber count records and set a new all-time subscriber high for Twitch, all in a span of one day.
On Monday, variety streamer Kai Cenat finished his February month-long subathon on a high note, as he not only beat the sub-count record previously held by Ludwig, but also passed the 300,000 subscriber mark to become the most subscribed streamer on Twitch of all time.
The momentous moment, a culmination of Kai's month-long subathon, was shared all over Twitter, Reddit and TikTok in recent days.
Kai Cenat is the first and only streamer to EVER break 300,000 subs on Twitch

Legendary pic.twitter.com/dRobBqpBv3

— Jake Lucky (@JakeSucky) March 1, 2023
Cenat, who started streaming on Twitch in January 2021 and whose channel reached 100,000 subscribers in October 2022, began his month-long subathon on February 1st, which helped him more than double his number of subs over the course of the month.
It then took him the entire month to reach Ninja's record of 269,000 subscribers, but it only took the streamer less than 24 hours to get to 300,000 subs from there.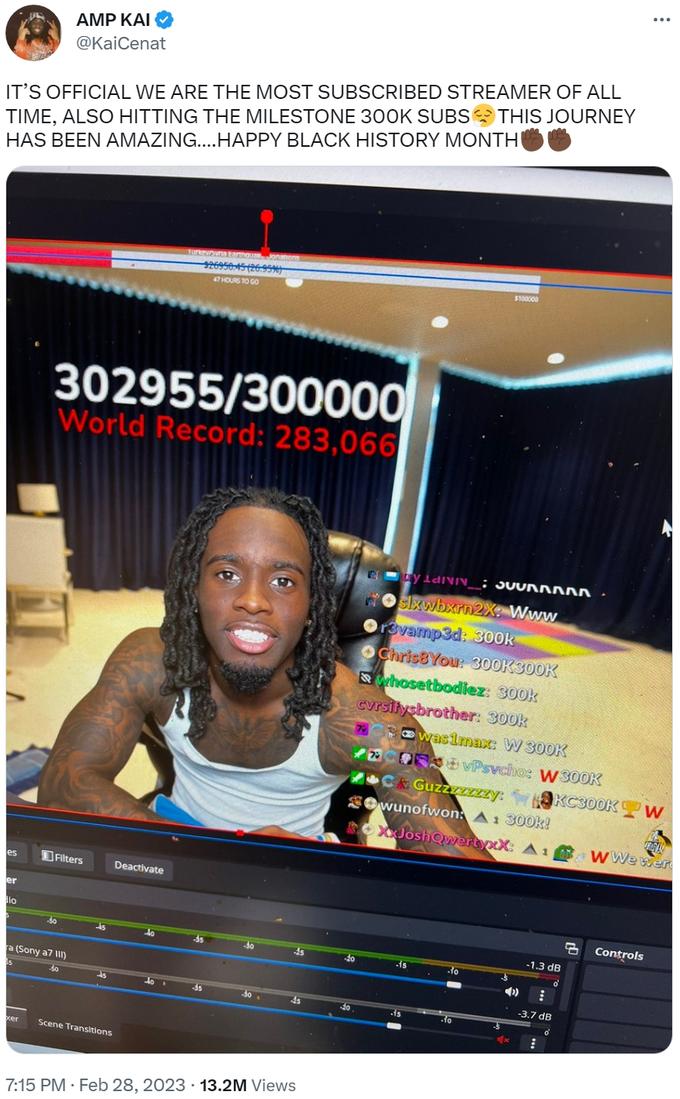 Rapper Drake was among the first to congratulate the streamer on his achievement, requesting that Twitch pay $50 million to Cenat.

Kai Cenat started his online career way back in 2015, posting to Facebook and Instagram before finding mainstream success on YouTube. In 2020, Cenat joined the New York-based YouTube group AMP. He's also known for coining the expression "unspoken rizz."