About
Ninja is the online handle for streamer Richard Tyler Blevins, best known for playing the games Fortnite and PlayerUnknown's Battlegrounds (PUBG). As of March 2018, Blevins is the most-followed streamer on Twitch with more than four million followers. Ninja announced his transition to streaming on Mixer[1] in August 2019, with the deal ending following the Mixer shutdown in June 2020.
History
In 2011, Blevins began streaming on Justin.tv. After hosting streams in which he played the game H1Z1, Blevins switched the PUBG and subsequently won the PUBG Gamescom Invitational competition in the 3rd Person Squads class.[4]
Online Presence
Drake Fortnite Stream
On March 13th, rapper and recording artist Drake tweeted[7] that he would be playing the game Fortnite with Blevins. The post (shown below, left) received more than 124,000 retweets and 259,000 likes in 24 hours.
Shortly after, Blevins tweeted[8] a Drakeposting variation directed toward Drake. The post (shown below, right) received more than 7,200 retweets and 48,000 likes in 24 hours.


That night, the sports website Bleacher Reports' esports Twitter[9] account posted a video of the match. The post (shown below) received more than 2,700 retweets and 12,000 likes in 24 hours.
That's 2. ✌️Drake</a> <a href="https://twitter.com/Ninja?ref_src=twsrc%5Etfw">Ninja pic.twitter.com/VPhN8xtACr

— B/R esports (@BResports_) March 15, 2018
Additionally, people began posting memes and jokes about the group of people playing (examples below). More than 600,000 people watched the match on Twitch. The story was covered by The Verge[2] and Kotaku.[3]



CNBC Interview
On March 19th, 2018, CNBC broadcast an interview with Blevins in which he discussed streaming on Twitch and the popularity of Fortnite (shown below).
Controversies
N-Word Controversy
On March 28th, 2018, Twitter user @jdwitherspoon uploaded a clip of Blevins rapping the song "44 More" by Logic during a livestream in which he can be heard saying the word "nigga" (shown below). Within 48 hours, the tweet gained over 1,000 likes and 200 retweets.
Welp…looks like Ninja already dropped the N-word…smh and I had high hopes for him ughh Nadeshot</a> get ya mans <a href="https://twitter.com/Ninja?ref_src=twsrc%5Etfw">Ninja pic.twitter.com/tETY8OunYQ

— J.D. (@jdwitherspoon) March 28, 2018
The following day, Blevins tweeted an apology for uttering the word (shown below). In the coming days, articles about the controversy were published on the news sites Polygon,[8] Kotaku[6] and The Daily Dot.[9]

Female Gamers Statements
On August 11th, 2018, Polygon[10] published an interview with Blevins, who is married, where he stated "I don't play with female gamers," citing the internet's penchant for creating gossip could make him a target for unfounded rumors. "If I have one conversation with one female streamer where we're playing with one another, and even if there's a hint of flirting, that is going to be taken and going to be put on every single video and be clickbait forever," said Blevins. Many fellow Twitch streamers in the community voiced their support for Blevins' statement against claims his decision may be sexist. Several female streamers stated they understood the choice to due the toxic nature of the Twitch community which has a tendency to create gossip and display sexist attitudes towards women (examples shown below). The issue was covered on Daily Dot[11] and dexerto.[12]


ESPN Cover
On September 18th, 2018, the sports news publication ESPN tweeted[13] their upcoming magazine cover featuring a photograph of Blevins, becoming the first professional gamer to be on an ESPN cover (shown below). This later became a Twitter Moment.[14]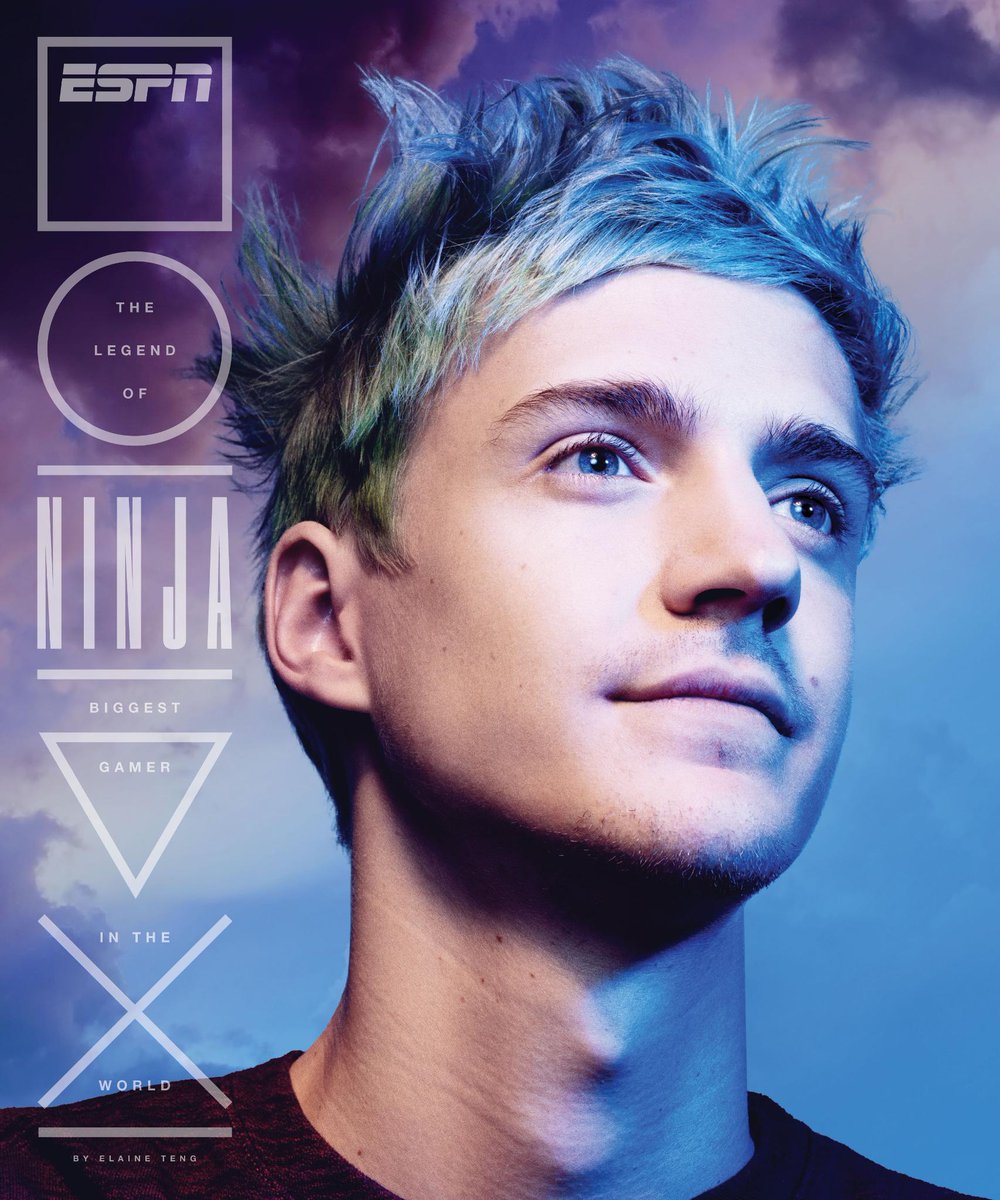 That day, YouTuber Philip DeFranco discussed the magazine cover in a video which received more than 1.15 million views and 6,400 comments within 24 hours (shown below). Meanwhile, Redditor Kattle submitted the ESPN cover to /r/FortniteCompetitive.[15]
2019 TIME's Most Influential People
On April 17th, 2019, TIME[18] magazine released their top 100 most influential people list of 2019. Ninja was nominated by Pittsburgh Steelers wide receiver JuJu Smith-Schuster. He writes, "Ninja was huge in building up the credibility of e-sports. At the end of the day, Ninja is an absolute legend, and someone to whom we owe a lot for making gaming what it is today." That day, Ninja[17] responded to list on Twitter saying, "Insanely honored and speechless to be on the @TIME magazine top 100 most influential people in the world … love to @TeamJuJu" (shown below, left). The tweet gained over 1,000 retweets and 19,125 likes in a day. JuJu Smith-Schuster[16] also responded on Twitter saying, "An honor to write @Ninja's @TIME 100 piece on being one of the 100 most influential people today! A true GOAT!" (shown below, right). The tweet accumulated over 500 retweets and 9,600 likes in a day.


"NFL Kickers" Comments
On November 30th, 2019, Ninja tweeted, "I'll never understand how college and NFL football teams allow kickers that just…. miss… kicks. I feel like there has to be pools of kickers in the USA that won't miss simple kicks. Or snappers that won't mess the snaps idk man it seems so SILLY. Would love opinions on this" (shown below, left).[19] In response, Twitter user @duckybtw teasingly reposted his tweet but made it about Fortnite players (shown below, middle). Ninja responded, "This is the shittiest reply ever. Fortnite requires movement, editing, building, rotating, and hitting shots. There are not "positions" in Fortnite. A kickers job is LITERALLY to kick. Horrible analogy, kind of embarrassing."


Since the incident, Twitter users have parodied Ninja by posting variations of his original tweet and his harsh response. For example, Twitter user @coffeemaestro_[20] wrote it in response to Ninja's It's Just a Game tweet (shown below, left). Interest in the tweets was renewed when on June 20th, 2020, user @broncosbuzzv2[21] reposted the exchange, gaining over 48,000 retweets and 390,000 likes.[22]


Search Interest
External References