This submission is currently being researched & evaluated!
You can help confirm this entry by contributing facts, media, and other evidence of notability and mutation.
About
Kai Cenat, also known as KaiCenat, is a Twitch streamer and YouTuber known for his comedy videos, vlogs and coining the slang terms Unspoken Rizz and GYATT. His online presence started in 2015 on Instagram and Facebook but he became notable after his virality on YouTube which started in 2018. He's become known alongside other Twitch streamers like Duke Dennis, iShowSpeed, Adin Ross and Silky. In late 2022, he made videos with NBA player Kyrie Irving and battled with Twitch over not "acknowledging" him despite his rapid growth, high follower count and proximity to surpassing xQc.
Background
Kai Cenat was born on December 16th, 2001, in the Bronx, New York according to the YouTube[1] channel Before They Were Famous in a video uploaded on January 27th, 2022. Cenat has an older brother and went to middle school and high school in Harlem. At a young age, he wanted to be a social media content creator and was an avid watcher of YouTube. He later went to Morrisville State College in New York but but dropped out in 2019 to pursue his content creation career.
Online History
On July 1st, 2015, then-14-year-old Kai Cenat uploaded his first comedy video to Facebook[2] captioned, "Speechless," in which he told Siri to shut up and she responded with a more aggressive rebuttal. Over the course of seven years, the video received roughly 10,400 views and over 260 reactions (shown below, left). He continued posting content to Facebook going into 2017 with his page receiving more engagement. For instance, a Facebook[3] video he posted on January 18th, 2017 received roughly 176,300 views and 5,000 reactions in five years (shown below, right).
Additionally, as he was posting all of these early Facebook videos, Cenat was parallel posting them to a since-deleted Instagram[5] account called kai_cenattv.
YouTube Channel
Due to the requests of his fan base, on January 13th, 2018, Kai Cenat uploaded his first YouTube[5] video, being a general introduction to his channel and persona. Over the course of four years, the video received roughly 166,300 views (shown below, left). Cenat received his first viral YouTube hit on September 26th, 2019, for a video titled, "EXTREME DING DONG DITCH PART 2!! *COLLEGE EDITION,*" which over the course of three years, gained roughly 1.3 million views (shown below, right). Shortly after the aforementioned video, Cenat dropped out of college to pursue his YouTube career full time.
Kai Cenat Joins AMP
On March 23rd, 2020, the New York-based YouTube[6] group AMP uploaded its first video, consisting of creators ImDavisss, JustFanum, Duke Dennis and Agent 00. On August 26th, 2020, Kai Cenat appeared in his first AMP video, gaining roughly 2.1 million views in two years (shown below, left). Kai became an AMP Peep going into the remainder of 2020 and into 2021. For instance, on September 9th, 2020, AMP posted a "Speed Dating" video that featured Cenat, gaining roughly 2.7 million views in two years (shown below, right).
Twitch Presence
Kai Cenat joined Twitch[7] in late January 2021 where he'd post live reaction video and social game-style content. He started his secondary YouTube channel, KaiCenat Live, in the same month where he'd upload his viral moments from his streams. On February 2nd, 2021, he posted his first YouTube video to the channel, gaining roughly 81,700 views in a year and a half (shown below, left). He'd go on to grow a large following on Twitch with his YouTube reposts additionally receiving mass engagement. For instance, on April 26th, 2021, he posted a video to YouTube titled, "So My Little Brother Went To Someone Else's Hood & Got," that received roughly 1 million views in a year and a half (shown below, right).
Kai Cenat Becomes the Most Subscribed Streamer
On February 28th, 2023, following a month-long subathon, Kai Cenat became the most subscribed streamer on Twitch with over 300,000 subscribers,[11][12] beating a record previously held by Ludwig.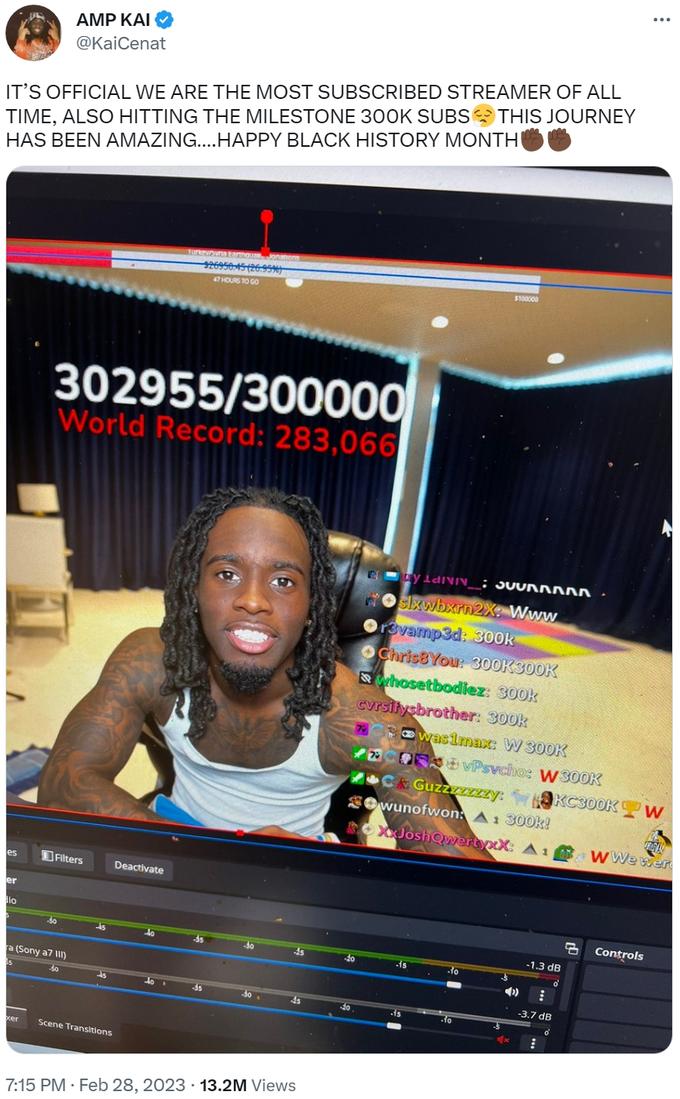 Related Memes
Rizz
Rizz or Unspoken Rizz is a slang term about men that means a man can attract women easily and is desirable without trying. It became notable due to Kai Cenat, Silky and Duke Dennis in mid-2021, but originated in New York City slang earlier. It became prominent in memes when referenced on TikTok and Twitter, among other platforms, in early 2022.
In May 2021, Twitch streamers Kai Cenat and Silky started streaming live e-dates with women, watching each other talk to them and then reacting to their conversations and overall performances. Through the progression of these streams, they started to introduce the idea of "rizz." If the date went well, they'd proclaim the other to have lots of "rizz," associating the slang term with having "game." For instance, on May 25th, 2021, Sliky posted a full-length recording of a Twitch stream to YouTube, wherein, he's live reacting to an e-date Kai is on. Over the course of one year, the video received roughly 70,400 views (shown below).
GYATT
GYATT, also written GYAT or GYAAATT is a slang used on Twitch and TikTok that means "goddamn" in short form. It's typically said fast and aggressively, most often when an attractive woman or man passes by with a large butt. Although it's been used on Twitter since the late 2000s by people like Nicki Minaj, it didn't become notable in memes until mid-2021, mostly due to Twitch streamer YourRage and Kai Cenat.
Following
By late September 2022, Kai Cenat accumulated roughly 4,600 followers on Facebook,[8] 1.7 million followers on Instagram,[9] 2.7 million subscribers on YouTube[10] and 2.1 million followers on Twitch.[7]
Search Interest
External References