PROTIP: Press 'i' to view the image gallery, 'v' to view the video gallery, or 'r' to view a random entry.
This submission is currently being researched & evaluated!
You can help confirm this entry by contributing facts, media, and other evidence of notability and mutation.
The Full Retard meme originates from a film released in 2008 called Tropic Thunder. It is mentioned in a scene where a multi academy award winning actor called Kirk Lazarus (Robert Downey Jr) is giving Chuck Speedman (Ben Stiller) advice and criticism on one of Chuck's films, Simple Jack. In the scene, he talks about how Chuck's acting method for his mentally handicapped character, the titular Simple Jack went "full retard", thereby overdoing the acting and making a possibly decent film stupid. Kirk uses examples of other famous films and actors who played similar characters.
Lazarus: "Everybody knows you never do a full retard."
Speedman: "What do you mean?"
Lazarus: "Check it out. Dustin Hoffman, 'Rain Man,' look retarded, act retarded, not retarded. Count toothpicks to your cards. Autistic, sure. Not retarded. You know Tom Hanks, 'Forrest Gump.' Slow, yes. Retarded, maybe. Braces on his legs. But he charmed the pants off Nixon and won a ping-pong competition. That ain't retarded. You went full retard, man. Never go full retard."
An entry added around the same time of the films release is found on Urban Dictionary:
This meme is used as an alternative to "facepalm" or "what is this I don't even". In simple terms, if a comment has been so inane or completely illogical and stupid, the Full Retard is used as a reply. However, acting "retarded" on the internet usually has some redeeming quality, such as bringing lulz. A person who has gone full retard has no redeeming qualities whatsoever, and is an unfortunate soul subjected to the full retard reply.
A typical full retard reply image macro: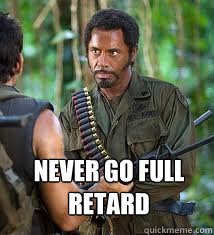 Facebook Comments