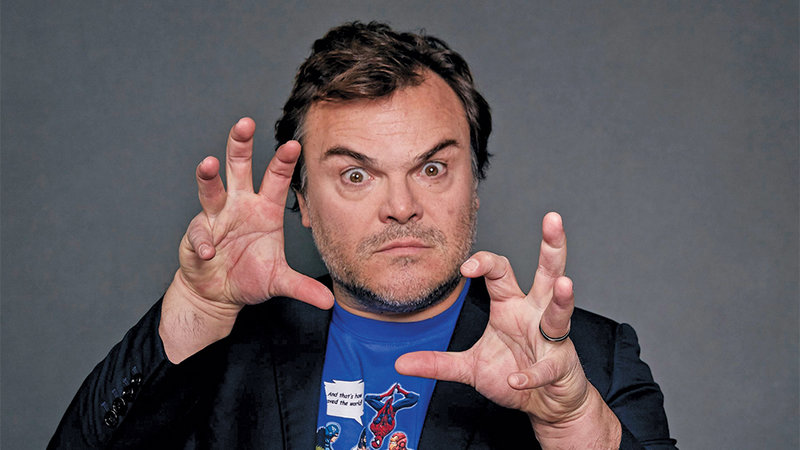 This submission is currently being researched & evaluated!
You can help confirm this entry by contributing facts, media, and other evidence of notability and mutation.
About
Jack Black, born Thomas Jacob Black, is an American actor, comedian, and musician best known for his roles in films including School of Rock (2003), Tropic Thunder (2008), and Kung Fu Panda. He has also found success with his comedy rock band, Tenacious D.
History
Black was born August 28th, 1969 in Santa Monica, California.[1] He began seeing professional work as an actor in the early 1980s, landing small television roles and cameos in shows such as Northern Exposure and The X-Files (shown below, left). He considers his role in 2000s High Fidelity his breakout performance (shown below, right).
In 2003, Black starred in School of Rock as a musician who cons his way into being a substitute teacher who goes on to teach his students about rock music, earning him a Golden Globe nomination. He gained his second Golden Globe nomination as the title role in 2011's Bernie in which he plays real-life murderer Bernie Tiede. Black is also the voice of Po in Kung Fu Panda.
2016 Death Hoax
In July of 2016, a rumor spread that Jack Black had died of unknown causes after a Facebook page was created and several tweets were posted on the Tenacious D Twitter account saying Black had passed.[5] The prank was attributed to Twitter user @Ruthless, and the rumor was quickly put to rest when fans reported seeing Black with Diplo and on an airplane.
Tenacious D
Black has also seen success with Kyle Gass and their comedy-rock duo Tenacious D. The group has released four albums: Tenacious D, The Pick of Destiny, Rize of the Fenix, and Post-Apocalypto. The Pick of Destiny was also the title of a film the group produced which featured multiple celebrity cameos including Dave Grohl as Satan.
Online Presence
Black does have an official Twitter account, through it is rarely updated.[2] His fan page on Facebook has over 7.1 million followers.[3] On Instagram,[4] he has over 3.1 million followers.
Jablinski
On December 21st, 2018, Black introduced his YouTube channel Jablinski Games, on which he stated he would be playing video games and covering memes, a la PewDiePie. He also appeared to parody PewDiePie by reclining his chair as PewDiePie does in the But Can It Do This? meme. The video gained over 2.5 million views.
Related Memes
Jack Black's Octagon
Jack Black's Octagon refers to a clip taken from a 2008 episode of Sesame Street in which Elmo teams up with American singer and actor Jack Black to define the word "octagon." Black's strange demeanor throughout the skit has led it to become common source material in YouTube Poop Music Videos as well as MAD video remixes.
Jack Black's Word of the Day skit was first uploaded to Sesame Street's official YouTube channel on July 18th, 2008 as a teaser for the 4161th episode of the children's show which premiered on digital cable television channel PBS Kids Sprout on August 11th, 2008. As of February 2013, the YouTube video has been vieweed more than 5.7 million times.
The first parody video using this source material was uploaded to YouTube on November 24th, 2008 by warmandcrispy. Entitled "Jack Black defines orgasm," this video has nearly 6000 views as of February 2013. Throughout 2009, additional YouTube Poop remixes were uploaded with the snowclone title "Jack Black Defines X", which has more than 170 search results on YouTube as of February 2013.
Search Interest
External References