This submission is currently being researched & evaluated!
You can help confirm this entry by contributing facts, media, and other evidence of notability and mutation.
About
Robert Downey Jr. is an American actor well-known for his appearance in dozens of films and TV shows over four decades since debuting at age of five. In the late 2000s, Downey Jr. garnered a sizable fan following on Tumblr for his portrayal of Iron Man in the live-action film adaptations of Marvel's Iron Man trilogy and The Avengers. His popularity also stems from his public persona and his interview style that are similar to that of the Iron Man character.
Acting Career
Downey appeared in many films in the mid and late '80s including roles in the John Hughes classic Weird Science and crime drama Less than Zero. He was also part of the cast of SNL from 1985-1986. He was nominated for an Oscar for Best Actor in a Leading role in 1993 for playing the title role in Chaplin and another in 2009 for Best Supporting Actor for his role in Tropic Thunder.[1] After a slump in the late '90s and early 2000s he had a career comeback beginning with his starring role in Iron Man (2008). He went on to star in several popular action and comedy films including Sherlock Holmes (2009),Due Date (2010), and The Avengers (2012).
Online History
On January 11th, 2014, a video of Downey singing "Driven to Tears" onstage with Sting at his 60th birthday party was uploaded to YouTube. The video was reported on by many websites such as The Laughing Squid,[3] Billboard,[4] and People.[5] As of February 2014, the video has over 2.3 million views.
As of February 2014, Downey's Facebook page[2] has over 12 million likes. Popular Tumblr blogs devoted to the actor include fuckyeahrdj,[6] fuckyeahrobertdowneyjr,[7] and ohmyrobertdowneyjr.[8] GIFs and photos of the actor that frequently circulate include puns involving his name (top right, bottom left) and nods to his attractiveness (bottom right).




Related Memes
Robert Downey Jr. Is Iron Man
Because Downey has a similar attitude during interviews as his character in Iron Man, Tony Stark, fans often joke that they are the same person, creating photos and sharing video clips that seem to capture the similarities.





Science Bros
Science Bros refer to the slash pairing of Marvel comic characters Bruce Banner (The Hulk's alter ego) and Tony Stark (Iron Man) as portrayed by Hollywood actors Mark Ruffalo and Downey. in the 2012 American superhero film The Avengers. On DeviantART and Tumblr, the pairing has inspired an extensive collection of fanart illustrating the two characters in varying degrees of intimacy, ranging from platonic friendliness to homoerotic romance.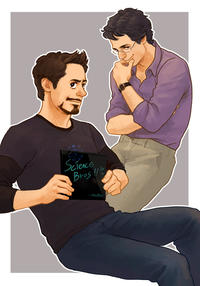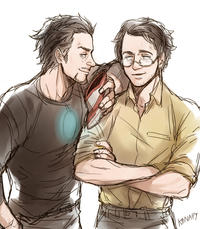 Full Retard
The Full Retard meme originates from Tropic Thunder, a comedy film released in 2008. The phrase comes from a scene where a multi-Academy Award winning actor called Kirk Lazarus (Robert Downey Jr) is giving Chuck Speedman (Ben Stiller) advice and criticism on one of Chuck's films, Simple Jack. In the scene (shown below), he talks about how Chuck's acting method for his mentally handicapped character, the titular Simple Jack, went "full retard," thereby overdoing the acting and making a possibly decent film stupid. Kirk uses examples of other famous films and actors who played similar characters.
The phrase is sometimes put over a still of Downey as Lazarus and sometimes images of mentally retarded characters or people the photo creators perceives as mentally retarded.




Personal Life
Downey was born on April 4th, 1965, in New York City, New York. He attended Santa Monica High School in California, but never graduated. He is married to producer Susan Downey and has two sons.
Search Interest
External References