PROTIP: Press 'i' to view the image gallery, 'v' to view the video gallery, or 'r' to view a random entry.
About
Ryan Gosling is a Canadian film actor who is known online for being the subject of several image macro series. These often involve photos of Gosling with a caption that begins with "Hey girl…"
Online History
Fuck Yeah Ryan Gosling
In December 2008, Gosling became the subject of single-topic Tumblr Fuck Yeah! Ryan Gosling, run by Douglas Reinhardt.[5] The first two posts were uncaptioned photos of the actor before the first "Hey girl" post[4] on December 19th, 2008. The original Tumblr blog was first featured on Jezebel[6] in January 2009.
2010
MTV

Interview

The Ryan Gosling Tumblr meme did not take off until December 2010 when Gosling was asked to read several captions from image macros in an MTV[7] interview. That month, both the interview and links to the site were featured on NY Magazine's Vulture[8], Perez Hilton[9], Nerve[10], Buzzfeed[11], and the Washington Post.[12] In July 2011[13], MTV After Hours did a second interview with Gosling in which he read more instances of the image macro out loud.






Ryan Gosling Tumblr Blogs
The first derivative blog, Feminist Ryan Gosling[14], were created in October 2011. It was highlighted on the Huffington Post[15], Feministing[16] and TIME NewsFeed.[17] Over the next two months, a considerable number of spin-off single topic Tumblrs were created, covering a wide variety of academic and topical subjects including typography, film studies, medieval history, Shakespearean literature, biostatistics, feminism, international development and political science among others. The lists of these were compiled by Buzzfeed[22], the HIP Genius blog[23], the Social Times[24], Read Write Web[25] in December 2011. The Daily Dot started the single topic Tumblr Gosblr[26] to compile links to Ryan Gosling themed blogs.
Ryan Gosling Easter Egg Hunt
On April 8th, New York-based copywriter Jenna Livingston launched the Twitter feed @GoslingEaster[38], which revealed clues to the location of 200 plastic Easter eggs filled with notes and photos allegedly written by Gosling and planted throughout Manhattan. Later, it was revealed that Gosling had no involvement with the Easter Egg hunt.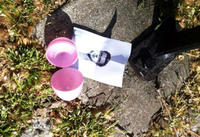 Ryan Gosling Won't Eat His Cereal
On April 22nd, 2013, Vine user Ryan McHenry[39] began uploading a series of videos titled "Ryan Gosling Won't Eat His Cereal," pairing various screen projections of Gosling's intense acting scenes with a slowly approaching spoon full of cereal. On May 6th, McHenry's parody clips were first picked up on the actor's fan blog Gosloving[40], followed by BuzzFeed's compilation coverage[41] on May 9th. On the next day, dozens of other entertainment news outlets including Gawker, Vulture, E! Online, Daily Mail and The Sun featured McHenry's Vine clips, with many hailing it as one of the more notable memes yet to emerge from the platform.
Ryan Gosling Bookmarklet
On August 6th, 2013, Brooklyn-based web developer Katherine Champagne released "Hey Girl,"[43] a Chrome bookmarklet app that replaces all images in a webpage with photographs of Ryan Gosling.
click through to download the bookmarklet
Personal Life
Ryan Gosling was born on November 12th, 1980 in Ontario.[2] He began his television career in 1993 as a cast member on the Mickey Mouse Club[3] before moving on to independent films, followed by major motion pictures. In 2004, Gosling garnered mainstream attention after appearing in the romantic film The Notebook.[34] He plays piano and guitar in the indie rock band Dead Man's Bones[35] and supports charities including PETA[36] and Invisible Children.[37]
Search Interest
Search for Ryan Gosling coupled with the phrase "hey girl" had two small bumps in March and June of 2009. Search volume picked up in December 2010 and again in July 2011, coinciding with the two MTV interviews where Gosling read instances of the image macro aloud for MTV.
External References
[1]Tumblr – FuckYeahRyanGosling
[2]Wikipedia – Ryan Gosling
[3]IMDb – Ryan Gosling
[4]Fuck Yeah Ryan Gosling – hey girl, i heard you like beards
[6]Jezebel – Hey girl, what if Ryan Gosling were your boyfriend?
[7]MTV Rough Cut – Ryan Gosling
[8]Vulture – See Ryan Gosling Read His Own 'Hey Girl' Quotes
[9]Perez Hilton – Hey Girl, Ryan Gosling Is Adorbs!
[10]Nerve – Hey girl, want to see Ryan Gosling read out his own Internet meme?
[11]Buzzfeed – Hey Girl, Ryan Gosling Wants To Read You Some "Hey Girls"
[12]Washington Post Celebritology – Watch Ryan Gosling laugh at his own Internet meme
[13]Hollywood Crush – Ryan Gosling Stars In 'Hey Girl: The Sequel'
[14]Tumblr – Feminist Ryan Gosling
[15]Huffington Post – 'Feminist Ryan Gosling' Blog Gains Popularity Using 'Hey Girl' Meme
[16]Feministing – The best Tumblr ever created: Feminist Ryan Gosling
[17]TIME NewsFeed – Tumblr of the Week: Feminist Ryan Gosling
[18]Tumblr – ryan gosling.
[19]Tumblr – Typographer Ryan Gosling
[20]Tumblr – Ryan Gosling, Disneyland, Cats
[21]Tumblr – Is Ryan Gosling Cuter than a puppy?
[22]Buzzfeed – The Ultimate Ryan Gosling Tumblr List
[24]Social Times – Tumblr Goes Meme-Crazy for Ryan Gosling
[25]Read Write Web – Hey Girl, I Know You Think This Meme Thing is Just Temporary But I'm Not Going Away
[27]The Next Web Social Media – Tumblr Tuesday: Meet the Woman behind Silicon Valley Ryan Gosling
[28]Forbes – 'Hey Girl': Introducing Silicon Valley Ryan Gosling's meme goddess, Lian Amaris
[29]Wired – Today in Great Tumblrs: Ryan Gosling Disneyland Cats
[30]Huffington Post – Ryan Gosling Reveals His Artsy Side With 'Museum Hey Girl' Meme
[31]PolitickerNY – Ryan Gosling Meme Hits The Campaign Trail
[32]Tumblr – Silicon Valley Ryan Gosling
[33]Tumblr – Shakespearean Ryan Gosling
[34]Wikipedia – The Notebook (film)
[36]Washington Times – Daily Caller: Gosling rallies to PETA's cause
[37]Paste Magazine – Kristen Bell, Ryan Gosling, Pete Wentz, Many More Help Invisible Children Pass U.S. Legislation
[38]Twitter – @GoslingEaster
[39]Twitter – Ryan W McHenry
[40]Gosloving – Ryan Gosling Won't Eat His Cereal
[41]BuzzFeed – Ryan Gosling Won't Eat His Cereal
[42]The Atlantic – The Ryan Gosling Won't Eat His Cereal Meme is Vine's Breakthrough Moment
[44]Mashable – Hey Girl Chrome Extension
Facebook Comments