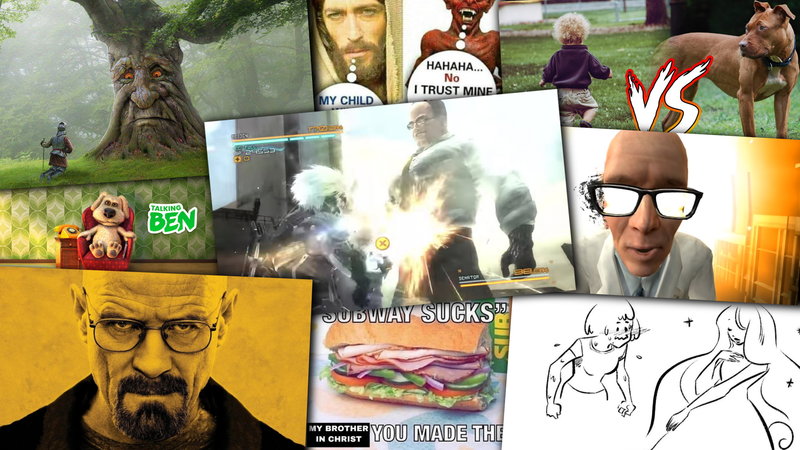 KYM Review: The Top Meme Comebacks Of 2022
Some memes are just not meant to fall into obscurity and die. Instead, they get unearthed by the new generations of meme makers and, after a subtle touch or two, get to shine even stronger than they managed to during their first life.
Featuring Ohio memes, Metal Gear Rising and other memes and formats that we were happy to welcome back this year, here's our list of the top meme comebacks that we witnessed in 2022.
It starts with …
When Half-Life shitposting communities on Reddit and Facebook dug up an amazingly high-effort Machinima remake of Linkin Park's "In the End" with Eli Vance and Dr. Kleiner starring as Mike Shinoda and Chester Bennington, it felt so unreal. Before August 2021, Ray Koefeld's work sat at mere 100,000 views which it painstakingly accumulated over 12 years on YouTube, and now, after a few months of extensive Kleinerposting, it has skyrocketed to over 3 million, but honestly? It deserves so much more. Thank you for bringing this timeless masterpiece back in 2022, Half-Life fans.
When Metal Gear Rising: Revengeance came out in 2013, it spawned a bunch of memes right off the bat: Monsoon and his love for memes, Sundowner's 'I'm Fucking Invincible' and his shit-eating grin, Senator Armstrong being 200% MAD with nanomachines pumping through his veins. But there's no denying that over nine years after it got popular on the chans, the game aged like a fine wine and finally delivered the impact it deserved to deliver. Standing Here I Realize, There Will Be Bloodshed: the new generation of MGRR memes as well as the oldies had such a massive impact in early 2022 that the game actually saw a noticeable uptick in the number of active players on Steam, peaking at a whopping 6,000 in May, making this comeback a win for gamers as much as it was for meme appreciators.



Back in 2016 when Ohio vs. the World memes were first getting traction on Tumblr and Reddit, the state was a menace threatening to overtake the United States and an immediate danger to anyone near, or god forbid, in it. In 2022 memes, Ohio got turned into a full-blown cryptid, an SCP if you like, a bizarro plane somewhere on the brink of reality. Doing literally anything in Ohio without encountering a visitor straight from the Backrooms is now impossible. Neither laws of men nor laws of physics function there anymore.
There's a grain of truth in every joke, though. Stay out of Ohio, kids.
Long before the Wise Mystical Tree became wise and mystical, it was known for a different thing: instead of suggestively staring into your eyes to some fantasy music, the tree was a symbol of true gamers who are over 25 and own a computer. It was 4chan's /v/ users who were ahead of the wave in 2017, mocking the ubiquity of the crappy browser game ads that showed a knight standing next to a dollar store ent, which claimed that if you're over 25 and own a PC, this game (Stormfall: Age of War) is a must-play. In 2022, the tree made a massive comeback, but now it was its provocative Arboreal Gaze that made the meme. And the music, can't forget the music.



Recaptioning outdated and/or cringy meme formats of the past in subversive ways has been a trend that has been around since the ironic meta kicked in in 2017, and this year, no other format did it better than My Child Will X. Why this format? Well, for starters, Jesus and Devil have swapped places, with Devil offering a rational, polite solution to his child and Jesus becoming the advocate for menace, destruction and having the chaotic evil sort of fun. Put the tinfoil into the microwave! Pirate video games! Rig your front door with explosives! This is what meme Jesus would do, after all.



Well, it happened, folks. After 4chan first forced the anti-pitbull agenda with the #PitBullDropOff hashtag in 2018 and after iFunny kept the flame of Pitbull memes alive for four years, it has finally leaked into the mainstream, reaching TikTok of all places. And while the meme hasn't changed much, boiling down to toddlers being a pitbull's most delicious snack and the "he doesn't bite" formula, the attitude sure has, with memes about pits having toddlers for breakfast becoming a common sight on our timelines.



In a huge W for artists, memes about Ship Dynamics pulled off a massive comeback this year, becoming more varied and much less serious. The formula is still very much the same and is just as simple and effective as it was three years back. Honestly, last time the format was left underexplored, and the potential has always been there. The window for what qualifies as a ship dynamic has noticeably expanded over three years: the duos no longer have to be romantically involved, and that has opened the opportunity for so much entertainment. A win for funny artists and a win for meme enjoyers — can this be made into a ship dynamic?



Sometimes a minor change is all that is needed to turn a format from an uncut gemstone into a shining diamond. This is exactly what happened to Dudes Be Like 'Subway Sucks' macro when a Twitter user replaced the N-word in it with "My Brother in Christ," not only the dated expression became viral, but the entire format caught a second wind. Definitely one of the top recaption memes of the year, My Brother in Christ encapsulates the passive-aggressive politeness of "bless your heart" and can be used to bring anyone down to Earth. My brothers and sisters in Christ, you helped this amazing format unlock its full potential.



What came first? Better Call Saul's sudden online popularity at the time when the show reached its final season, or the advent of Better Call Saul shitposting? Truth be told, the two came hand in hand, bringing back the Breaking Bad meta like it never left us, and introducing a new generation of viewers not to one, but to two great shows. The 2020 peak in Breaking Bad memes was proven to be a false one, with the trend reaching new heights in 2022. Does it have another run in it in 2023 or 2024, or is the trend finally running on fumes? Might take a third show for us to truly find out. Bravo, Vince!



Talking Ben the Dog and iShowSpeed: name a more iconic duo. the forgotten app from the early 2010s got its second life when the charismatic streamer started talking to it like it was an ouija board, with the interactions between the two achieving a legendary status online. Despite only being capable of saying a total of six words, Ben proved to be the ultimate roaster of streamers, delivering unintentional hilarity the way only a half-assed 2011 mobile game can do.
---

Looking for more of this year's best viral phenomena and memes? Be sure to check out our other 2022 meme roundups below: