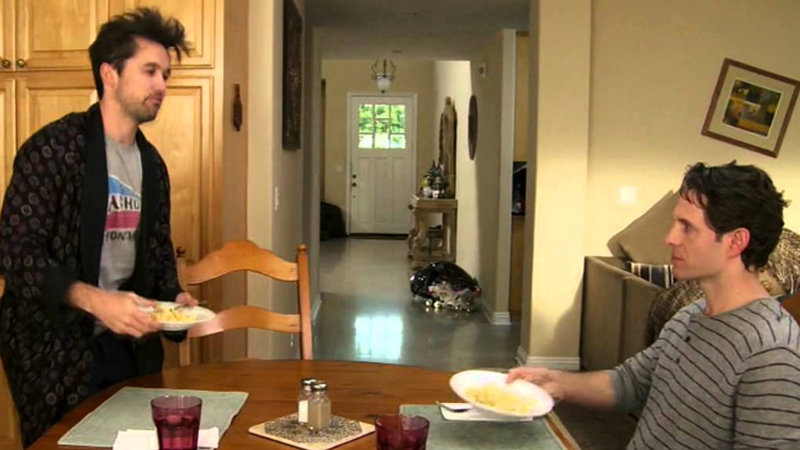 This submission is currently being researched & evaluated!
You can help confirm this entry by contributing facts, media, and other evidence of notability and mutation.
About
Always Sunny Plate Toss refers to a series of images based on a screen capture from the America television comedy It's Always Sunny in Philadelphia. The image features Mac (played by Rob McElhenney) serving a bowl of macaroni and cheese to Dennis (played by Glenn Howerton), who throws the bowl across the room. In object labeling variations, each of the plate and characters are labeled various things.
Origin
On February 3rd, 2016, the episode of It's Always Sunny in Philadelphia entitled "Mac and Dennis Move to the Suburbs" aired. The episode features a scene in which Mac serves Dennis a bowl of macaroni and cheese. Dennis then throws the macaroni and cheese across the room (clip shown below).[1]
About one week later, on February 9th, a gif of the moment playing in a loop was posted on Imgur.[3] Two days later, on February 11th, Redditor [2] hero0fwar posted it in the Always Sunny subreddit /r/IASIP. The post (shown below) received more than 800 points (97% upvoted) and 35 comments in two years.
sometimes it feels like I am doing the same things day after day
On February 11th, Facebook[9] account TRVSHSCUM published the earliest known object labeling verison of the image. The meme (shown below) featured the words "therapist" over Mac, "healthy coping mechanisms" over the food, and the word "Me" over Dennis.

Spread
Later that day, Facebook[10] user Gregory Sparks posted the same image on the "It's Always Sunny In Philadelphia Shitposting group. Within two months, the post received more than 2,300 reactions and 1,000 shares.
On February 13th, 2016, the image was used by an anonymous 4chan user on the /v/ message board (shown below, left).[4]
Two years later, on Feburary 19th, 2018, Facebook [5] account rrdsp0 posted an object labeling meme with the words "society" overlaid on Mac, "respect for woman" on the plate" and "Me" on Dennis. The post (shown below, center) received more than 30 reactions and four shares.
The following day, Redditor[6] tommyvaldez posted a version about Star Wars: The Last Jedi in the /r/SequelMemes subreddit. The post (shown below, right) received more than 2,200 points (97% upvoted) and 70 comments in less than one month.



On March 15th, the Facebook[7] account socraticmemes posted a variation in which Mac, the plate and Dennis are labeled "Plato," "an entire theory of metaphysics" and "Aristotle," respectively. The post (shown below) received more than 3,200 reactions, 1,800 shares and 210 comments in four days.
Three days, later the image was posted on the /r/MemeEconomy subreddit[8] by Redditor dperezk. The post received more than 29,000 points (90% upvoted) and 360 comments.

Various Examples






Search Interest
Not available.
External References