About
Creepy White Guys is a single topic blog that collects and features politically incorrect, racially insensitive or otherwise off-putting pick up lines sent from Caucasian men to Asian women on online dating and social networking sites.
Origin
Creepy White Guys[1] was launched by an anonymous Tumblr user on February 2nd, 2013. According to the blog's profile description, she started the project as a personal inquiry into the "Asian fetish" that has been known to be prevalent among white men.
"Every Asian girl who has ever tried online dating, whether on POF, OKCupid, or Match has experienced it: messages from Creepy White Guys with Asian fetishes. I just got back into the dating scene and am already being bombarded with some absolutely horrifying messages. I've collected some of the best ones here, and I welcome any additions to my collection."
While the blog's content was initially limited to off-putting messages that the blogger herself had received on dating sites, it quickly began featuring screenshots of chat logs submitted by other Tumblr users.

Spread
In April 2013, the "Creepy White Guys" blog was covered by several online news sites, beginning with BuzzFeed's "10 Ridiculously Offensive Things People Tell Asian Women On OkCupid"[2] and Kotaku's "White Guys Creeping Out Asian Women on Dating Sites"[9] on April 8th.
Analysis
On November 20th, 2013, marketing website Quartz[6] published a piece titled "The uncomfortable racial preferences revealed by online dating." Their data, which they compiled from the messages sent and received through the Facebook dating app Are You Interested, showed that:
"Unfortunately the data reveal winners and losers. All men except Asians preferred Asian women, while all except black women preferred white men."

Coverage of the date focused in and highlighted the preference for white men to seek Asian women, with NPR[7] publishing an article titled "Odds Favor White Men, Asian Women On Dating App" and The Telegraph[8] publishing "Why do 'creepy white guys' only want to date Asian girls?"
#CreepyWhiteMen
On April 17th, 2014, Twitter user @lolitainmyarms[3] tweeted an example from the Creepy White Guys Tumblr using the hashtag #creepywhiteguys.[4] It less than 24 hours the hashtag was tweeted out more than 11,000 times.
Extract #1 from the #creepywhiteguys blog, in which a WM explains why AM aren't good enough for AW pic.twitter.com/pzZbs1kr40

— Sook Min (@lolitainmyarms) April 17, 2014
The same day Social News Daily[5] reported on a backlash against the hashtag by white men who believed the hashtag was offensive.
#creepywhiteguys is a racist tag. There are plenty of #creepyasianguys but that's too "racially insensitive" for people to use.

— Alex Gault-Plate (@SlayanderGault) April 17, 2014
Notable Examples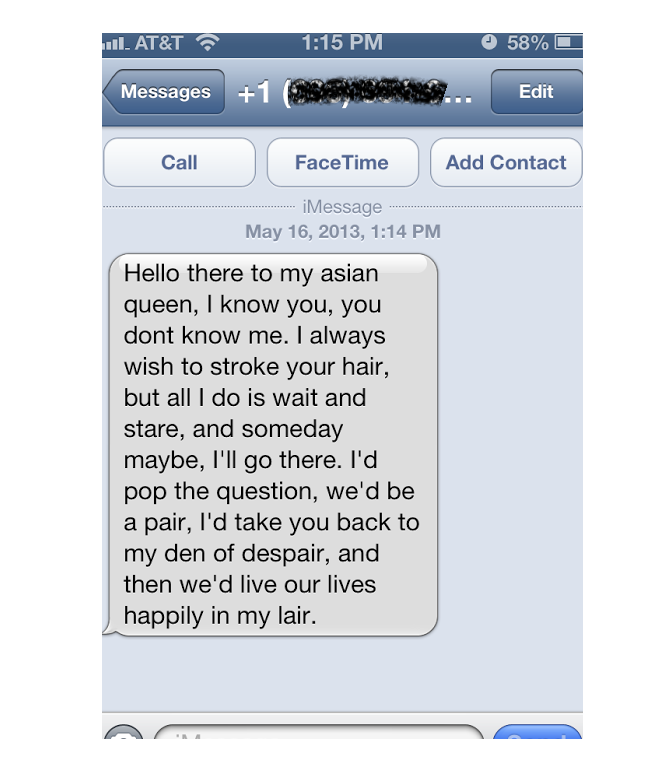 Search Interest
External References
Recent Videos
There are no videos currently available.