About
Desk Flip, also known as Table Flip, is a Rage Comics character depicting a man flipping over his desk in anger, related to the flipping tables trope. Used to convey extreme frustration, Desk Flip is most frequently used as a simple reaction, but also appears as an exploitable image macro in various comics, similar to other Rage Faces.
Origin
The exact origin and creator of the face is unknown, although searches for the meme became noticeable around late 2011. The oldest known date tracing back the origins of the Desk Flip character stems from a post on June 18th, 2011, when it was added to the Rage Maker[1] site under the "Angry" category (seen below).

As with the original post of the Rage Face, the first meme to use Desk Flip is unknown, but on August 18th, 2012, early examples of it being used in such a fashion are found on Meme Generator[2] across numerous image macros (shown below).

Spread
Desk Flip was also frequently used as an exploitable in various Rage Comics. On August 22nd, 2012, an Imgur[4] post under the title "why im always late for everything" depicts the character flipping a table as a reaction to Derpina making them late (seen below, left). On March 1st, 2013, MemeCenter[5] user amberisinthehouse posted another example of the meme in a comic, which also included the Fuck Yea Rage Face (seen below, right).


By far the most common use of Desk Flip is as a reaction to an above comment or discussion. One such example can be seen in a forum thread on Comic Vine[3] dated February 11th, 2013, where user The_Lunact_And_Manic included it in their frustrated response to a comic book discussion.
Various Examples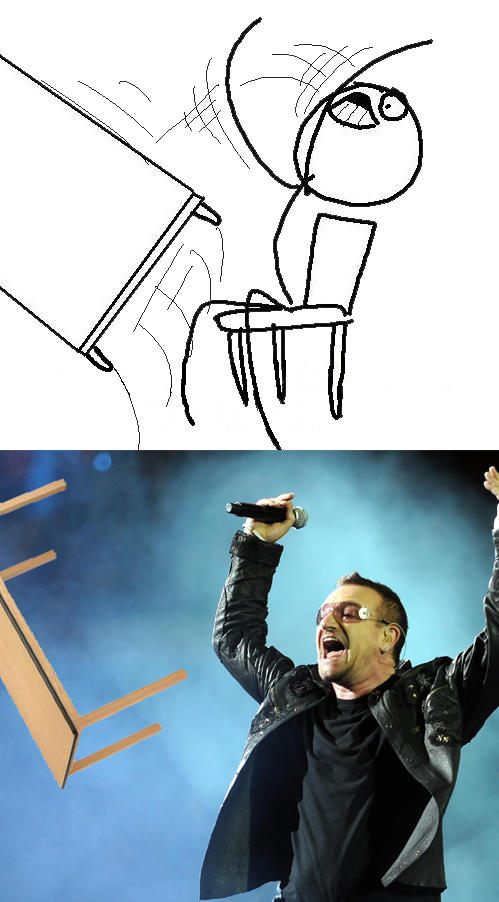 Template

Search Interest
External References
Recent Videos
There are no videos currently available.