This submission is currently being researched & evaluated!
You can help confirm this entry by contributing facts, media, and other evidence of notability and mutation.
Overview
MrBeast and Morgz Feud refers to British YouTuber Morgz copying YouTube video ideas from MrBeast to gain more views.
Background
On April 30th, 2018, MrBeast uploaded a video titled, "Can 1,000 Rolls Of Duct Tape Stop A Car??" (shown below, left). The video gained over 10 million views in a year. On August 19th, Morgz uploaded a similar video titled, "Can 1,000 Layers of Duct Tape Stop a Car Hitting Me?" (shown below, right). The video gained 5 million views in a year.
On August 19th, 2018, after fans noticed some similarities between the two YouTubers videos MrBeast addressed the similarities in a tweet that has since been deleted. Morgz promptly responded with a screenshot of YouTubers that attempted similar videos before them. MrBeast replied with a video (shown below). Morgz[1] addressed the video by saying, "1) i never said I actually wanted beef lol, neither of us need that as you said. 2) the vids are completely different, Todays vid was more of a 'Weapons vs unbreakable wall' than an experiment. The donating had the 'moms credit card' element which was completely different too." He continued tweeting, "100% get where ur coming from tho. The titles and thumbnails are pretty similar but if you watch the actual vids, our video styles are completely different." MrBeast ended the dispute saying, "Ay, a sensible response. I deleted the original tweet because I know lots of youtubers are making vids on you right now and I can't imagine it feels good, so I'll leave you alone. Have a good day!"
August 19, 2018
Notable Developments
On August 22nd, 2018, Twitter user @BradHeat[3] tweeted, "So I was looking… and it turns out Morgz has actually BLACKLISTED the word "MrBeast" so people can't properly call him out. Obviously he realizes what he's done" (shown below, left). On November 26th, MrBeast[4] tweeted a screenshot of one of his challenges trending and asked, "Yooo, what if I invited everyone who did one of these videos and had them all compete for $100k?" (shown below). Twitter user @conoredits replied by saying, "No because morgz doesn't deserve any more attention lmao" which gained over 660 likes in six months.


On March 12th, 2019, Redditor FckRuss2018 posted a screenshot of the YouTuber's similar new videos to r/MrBeast[2] (shown below, right). The image received over 70 points (99% upvoted) in two months.

On May 15th, 2019, Redditor bootienbeast posted a screenshot of more similar videos between the YouTubers to r/PewdiepieSubmissions[8] (shown below, left). The image received over 55,000 points (89% upvoted) in a week. The next day, Twitter user @Challow212[7] posted another similar screenshot (shown below, right). The tweet garnered over 20,500 likes and 1,400 retweets in a week.


That day MrBeast[5] addressed @Challow212's tweet by saying "Imitation is the sincerest form of flattery (shown below, left). The tweet accumulated over 9,000 retweets and 126,700 likes in a week. FaZe Banks replied to the tweet saying, "You're way too nice lmao, this is on a whole other level" to which MrBeast[6] replied, "True but not everything I do is original either. Tons of people copy me everyday but it would be hypocritical if I were to get mad at them" (shown below, right). His reply received over 15,000 likes in a week.


Various YouTubers outlined the similarities between the Morgz and MrBeast videos and discussed the drama between the two. On May 19th, YouTuber SwanMaster64 uploaded a video entitled, "Morgz Copying Mr Beast in 1 Minute" (shown below).
Various Examples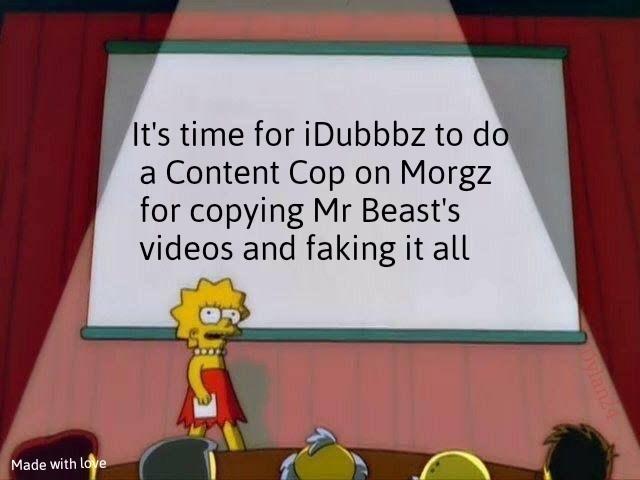 Search Interest
External References
Recent Videos
There are no videos currently available.