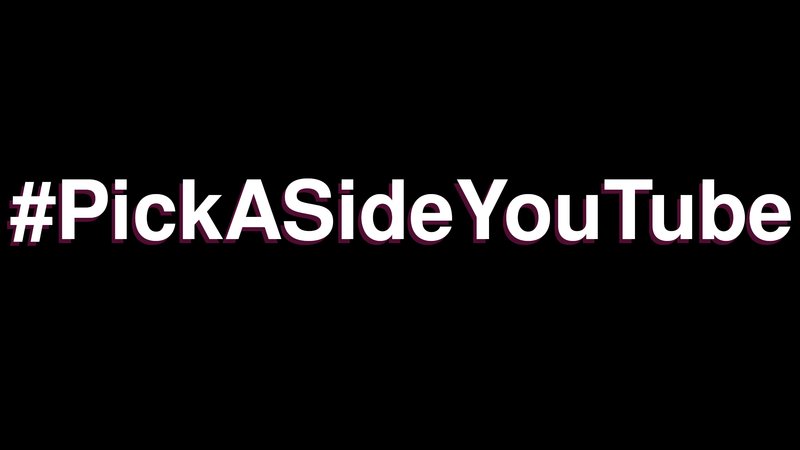 This submission is currently being researched & evaluated!
You can help confirm this entry by contributing facts, media, and other evidence of notability and mutation.
Overview
#PickASideYouTube is a social movement started by YouTuber MamaMax that calls out YouTube censorship of videos that attempt to expose sexually predatorial behavior online. Users in support of the movement argue that YouTube will block content calling out sexual predators while promoting content that features sexually explicit material.
Background
On November 26th, 2021, YouTuber MamaMax posted a video about an alleged child predator on the metaverse platform IMVU. After the video received roughly 500,000 views, YouTube took it down, supposedly because the video showed a male digital avatar's butt. On December 26th, 2021, MamaMax uploaded a video about the controversy expressing his frustrations with YouTube's moderation policy, arguing it was hypocritical of the site to take down videos that tackle serious subject matters like child abuse while promoting arguably non-family friendly, sexually charged videos. The video features multiple prominent YouTubers, such as SomeOrdinaryGamers, Technicals, InsideAMind and many others.
Developments
The same day as his video upload, MamaMax[1] posted a tweet with the hashtag #PickASideYouTube that tagged multiple prominent YouTubers, as if to request they respond to his video (shown below).

Keemstar was the first to respond, posting a video signal boosting MamaMax's video (shown below). MamaMax later claimed YouTuber Scarce had chosen "our side,"[2] and that more would be coming from him soon.
So mamamaxYT</a> uploaded a video calling out YouTube with like 20 other creators! <a href="https://twitter.com/hashtag/YouTubePickAside?src=hash&amp;ref_src=twsrc%5Etfw">#YouTubePickAside</a> <a href="https://t.co/eN1S7D6RUP">pic.twitter.com/eN1S7D6RUP</a></p>&mdash; KEEM 🍿 (KEEMSTAR) December 27, 2021
Other Twitter users came out in support of MamaMax's cause. Some popular posts include a tweet from @jsonbeuh[3] that gained over 5,000 retweets and 11,000 likes in under 24 hours (shown below, left) and a tweet from user @FallBill[4] that gained over 800 retweets and 5,300 likes (shown below, right)..


Search Interest
External References