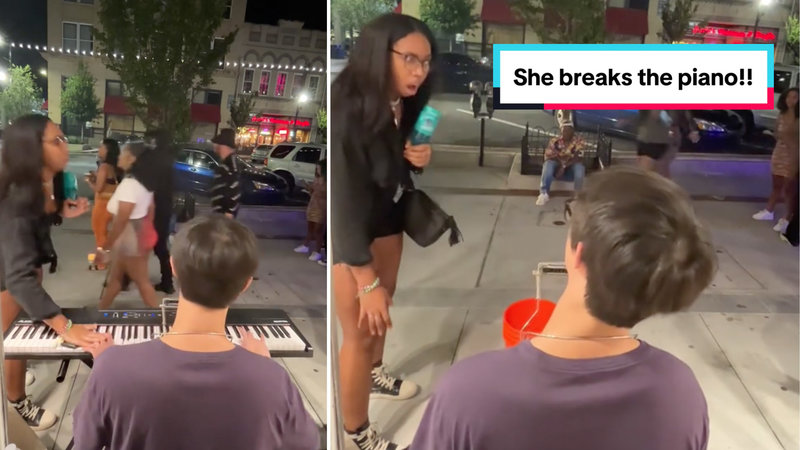 Shauntae Heard Breaking TheAndrewShoe's Piano Controversy
This submission is currently being researched & evaluated!
You can help confirm this entry by contributing facts, media, and other evidence of notability and mutation.
Overview
Shauntae Heard Breaking TheAndrewShoe's Piano Controversy refers to a controversy that was sparked by a viral video posted by street performer and TikToker @theandrewshoe in September 2023 in which a woman in Athens, Georgia knocked over his keyboard while he was performing and then purportedly stole money from his tip jar. After the video went viral, it was reposted to X / Twitter, causing more people to see it and spread the word to the woman in the video. She later revealed herself as Shauntae Heard, also known as Tommanesha or @atl.minit on Instagram, subsequently issuing an apology on her Facebook. She later deleted or deactivated her Instagram and Facebook accounts following backlash.
Background
On September 25th, 2023, TikToker[1] @theandrewshoe posted a video in which he showed "one of the worst things somebody's probably ever done [to him] while street performing." The clip showed a woman harassing him on the streets of Athens, Georgia (the town where the University of Georgia, UGA, is located), hitting keys on his piano before returning later and knocking over his keyboard piano, then appearing to steal money out of his tip jar. In less than a day, the video received roughly 3 million plays and 556,800 likes (shown below).
Online Reaction
On the day of the video's upload, it received multiple stitches and duets from other users on TikTok. For instance, on September 25th, 2023, TikToker[2] @wolfhatfacts posted a stitch in which he condemned the woman's actions, gaining roughly 349,900 plays and 55,900 likes in less than a day (shown below).
Also on September 25th, the video spread to X[3] when the account @ClownWorld_ reposted the video, captioning it, "Not cool wtf," gaining over 4.3 million views and 25,200 likes (shown below). The video was also reposted to X[4] by Ian Miles Cheong, who received roughly 33,800 likes in the same timeframe.
Not cool wtf pic.twitter.com/tXOydtg3Kz

— Clown World ™ 🤡 (@ClownWorld_) September 25, 2023
Developments
Shauntae Heard's Apology
As soon as the first hour after the original TikTok's[1] upload, people, such as TikToker[5] @uhmthein, were already posting videos that exposed who the woman was in the video, identifying her as Shauntae Heard with an Instagram account called @atl.minit. Soon after, on September 26th, 2023, screenshots of apology posts from Shantae Heard's Instagram and Facebook accounts were reposted to TikTok[6][7] and elsewhere (shown below).


As of September 26th, Shantae Heard has deleted or deactivated both her Instagram and Facebook accounts.
Various Reactions
@crvm0mmy My heart goes out to @theandrewshoe and his awful experience. But the comments made by eagerly r*cist viewers on the video aren't it… just wanted to speak a little on it, as always I am open to learning more and if I missed something, please let me know. I am tired of the Black and Jewish communities being targetted by these comments that make them feel unsafe. No one deserves that. I wish i had time to go more in depth. #fyp #fypシ #leftist #awareness ♬ original sound – Roro!!
Search Interest
Unavailable.
External References