About
Valentine's Day E-cards refer to a variety of digital greeting cards that are exchanged on social media platforms in celebration of the Valentine's Day. The e-cards often feature a person or a popular character, with the text on a card making a witty reference to the media this person or character appears in while confessing feelings to the recipient of the card.
Origin
While it remains unclear exactly when or where Internet users began creating and exchanging e-cards in celebration of Valentine's Day, this online custom most likely began through exchanges of casual holiday greetings via e-mail, before gradually evolving into more visually interesting forms like rejected candy hearts and personalized greeting e-cards with the advents of image captioning tools and custom message generators in the early to mid-2000s.
Pre-Internet
Valentine's Day is dedicated to romance and love, and serves as an occasion for lovers to express their feelings for each other by presenting gifts and greeting cards.[1] Although Valentine's Day cards were originally handwritten, they have given way to mass-produced greeting cards since the 19th century.

Spread
On February 12th, 2008, the Internet humor site Cracked[3] published a post featuring several "honest" Valentine's Day cards containing insulting and sexually explicit messages (shown below, left). One year later, Cracked[4] published a follow-up post containing honest Valentine's Day cards sent in by readers (shown below, right).


On February 10th, 2010, the Internet humor site College Humor[5] published several humorous e-cards based on the reality television series The Jersey Shore (shown below, left). The following year, College Humor[7] published several original "Internet Valentine's Day cards" by staff artist Caldwell Tanner, featuring e-cards referencing various social media websites (shown below, right).


On February 12th, 2012, artist Ben Kling published several Valentine's Day cards on his Tumblr[6] blog, featuring historical figures like Sigmund Freud, Sir Isaac Newton and Rene Descartes (shown below, top row). On February 11th, 2013, Kling published several more historical figure Valentine's Day cards, including William Shakespeare, Charles Darwin and Friedrich Nietzsche (shown below, bottom row).[2] Within 24 hours, the post received over 6,800 notes.






Following Ben Kling's Tumblr posts, the tradition of creating humorous e-cards which feature various famous figures, such as video game and meme characters, combined with text referencing these figures while confessing feelings, gained major spread online, initially on Tumblr and Pinterest.
On February 12th, 2013, NBC published a series of Valentine's Day e-cards inspired by the comedy television series Parks and Recreation on their official Pinterest[8] page (shown below, left). The same day, the tech news blog Mashable[9] highlighted several Valentine's Day cards found on Tumblr (shown below, right).


The tradition of creating humorous e-cards persisted in the following years, spreading to Facebook, Twitter and Reddit, with users submitting unsigned card designs each year on February 14th and days leading up to the holiday.
Various Examples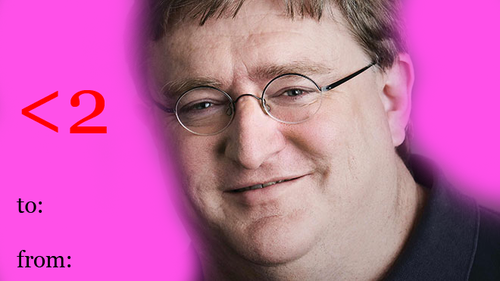 Search Interest
External References