About
Fap Guy is a rage comic character wearing a strained facial expression accompanied by the caption fap fap fap fap, indicating that he or she is masturbating.
Origin
The "Fap Guy" face originated from a "Now Kiss" rage comic titled "Principal Creepy" (shown below, left), which was submitted by FunnyJunk user KingGawjuss on February 16th, 2010. Its humorous association with masturbation jokes is believed to have begun on May 31st, when FunnyJunk[18] user TehEman submitted a comic titled "Fap Fap Fap Fap Guy!" (shown below, right).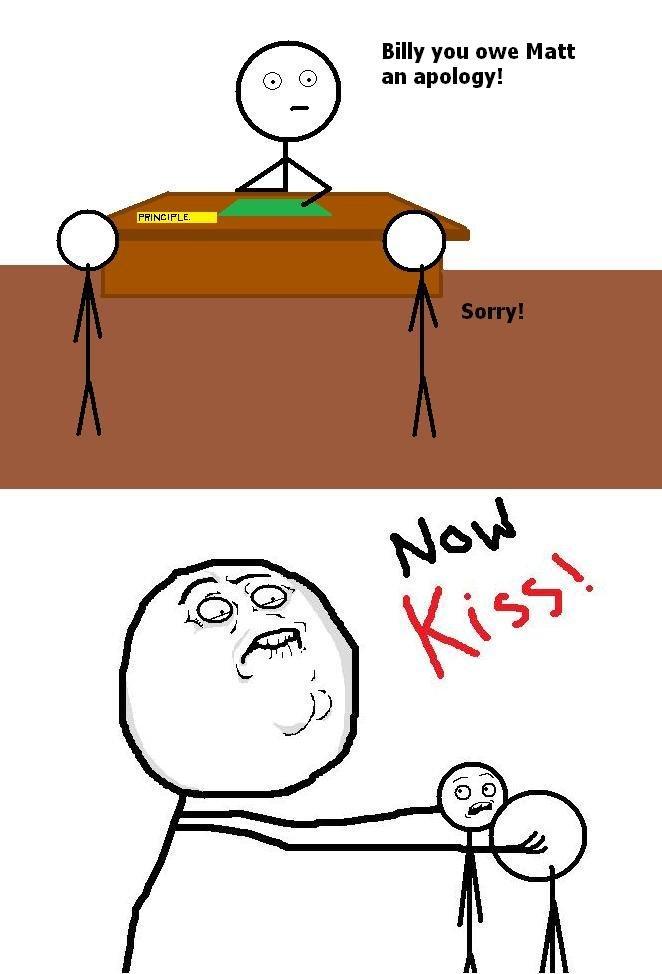 Spread
On December 10th, 2010, Redditor YJM uploaded a Fap Guy comic to the f7u12[2] subreddit in a post titled "Those Soul-less Eyes" (shown below, left), in which the subject experiences guilt after masturbating while looking at his cats. Prior to being archived, the post received over 1,200 up votes and 40 comments. On May 8th, 2011, Redditor ultralsome64 submitted a post titled "Fap Fap Fap" to the f7u12 subreddit, which featured a bait-and-switch comic illustrating Fap Guy as merely operating a squirt gun (shown below, right).


On March 24th, 2012, the website FapGuy[7] was launched, which serves as a database for Fap Guy rage comics. On May 28th, a Fap Guy bumper sticker (shown below) was introduced for sale on the online retailer Zazzle.[3] Additional comics featuring Fap Guy can be found on the microblogging site Tumblr[4] under the tag "#fap guy" and the Cheezburger site Memebase[6] under the tag "#fap." As of December 2012, the Facebook[5] page for "Fap Fap Fap" has accumulated more than 88,000 likes.

Notable Examples




Schlick Girl
The female counterpart to the Fap Guy features the same face used in the original drawing, accompanied by Derpina hair and the caption "schlikc schlick schlick schlick." Like Fap Guy, the character is meant to portray someone engaged in the act of masturbating or other sexual acts.

Search Interest
External References