Flutterrage / Flutterbitch

About
Flutterrage / Flutterbitch features a series of fanworks that revolve around the character Fluttershy from the popular Tv Series My Little Pony: Friendship is Magic. While Fluttershy is normally a timid, compassionate type of pony, Flutterrage / Flutterbitch show her as the complete opposite. Being out of character she occasionally exhibits a loss of control over herself, becoming angry, belligerent and callous, often enjoying the misery of others.
Origin: Flutterrage / Psychoshy
In the Season 1 finale episode, "The Best Night Ever", the main cast of the series is attending a gala. During the gala Fluttershy wants to befriend the creatures in the gardens surrounding the palaces.[1] The creatures, however, seem to be afraid of her, and she spends the entire night chasing after them, slowly and progressively losing her patience as the evening carries on.
Spread
Following the episode's airing, bronies began to refer to her scheming in various ways. Fluttershy's obsessive side resulted in several nickames for this other personality of her, the most common being Psychoshy and Flutterrage.
The scenes became very popular within the show's fandom, as it is the complete antithesis to Fluttershy's usual demeanor. Her enraged expression has been used by fans to express anger, but can also commonly be found back in fanworks.
Notable Examples




"You're Going to Love Me"
Although Flutterrage was seen multiple throughout the episode, it reached its climax near the end of the show. In this short scene, Fluttershy, following a stampede of various animals, bursts into the Palace ballroom screaming "You're going to Love me!". This particular scene created the biggest impact to the fans, making the catchphrase one of the more notable brony catchphrases. The catchphrase is commonly combined with Flutterrage fanworks, whereas the scene has been remixed into various Sparta Remixes.
Her facial expression during the scene also became a popular exploitable, often featured in various Photoshops.






Template

Related: Flutterbitch
In the Season 2 premiere episode, "The Return of Harmony, Part 1", the main cast is put under the influence of Discord, an evil trickster who manipulates them into acting the opposite of the elements that they represent. Because Fluttershy represents the Element of Kindness, she becomes harsh and cruel.[2]
Fans were very amused by this downright backward depiction of Fluttershy, resulting in positive reviews. The fans then began to call her a variety of nicknames, with Flutterbitch as the most popular.
Notable Examples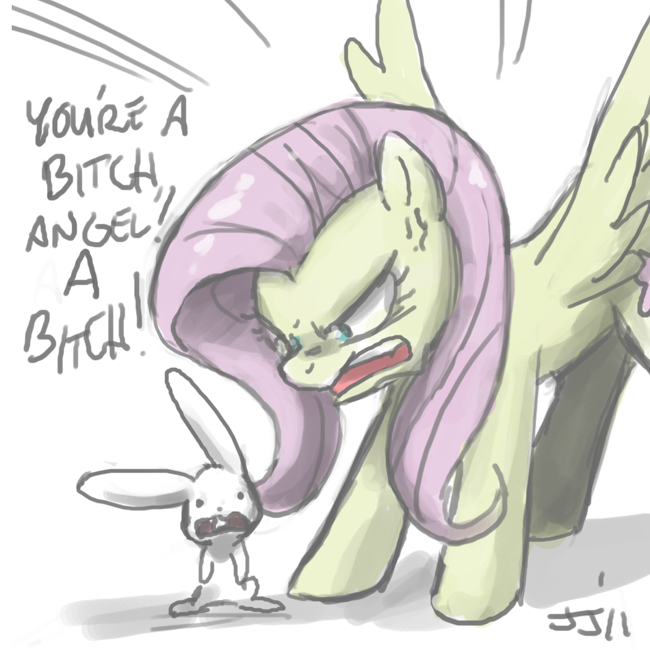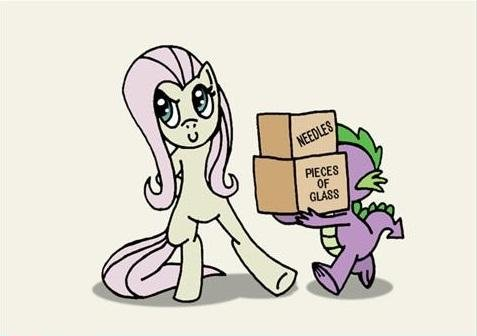 Search Interest
Search Interest for Flutterrage starts around May 2011, this matches with Flutterrage's appearance in the season 1 finale of the tv series on May 6, 2011. Search Interest for Flutterbitch begins around September 2011, this matches with Flutterbitch's appearance in the season 2 premiere of the tv series on September 17, 2011.
External References
[1] TV Tropes – Recap: My Little Pony Friendship Is Magic S 1 E 26 The Best Night Ever
[2] TV Tropes – Recap: My Little Pony Friendship Is Magic S 2 E 1 The Return Of Harmony Part 1