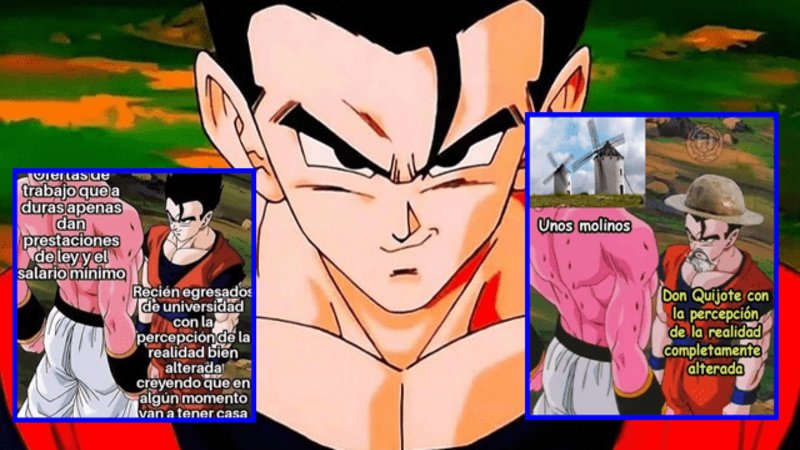 Gohan Con La Percepción De La Realidad Alterada / Gohan With His Perception Of Reality Altered
This submission is currently being researched & evaluated!
You can help confirm this entry by contributing facts, media, and other evidence of notability and mutation.
About
Gohan Con La Percepción De La Realidad Alterada or Gohan With His Perception Of Reality Altered refers to an exploitable image macro involving the Dragon Ball characters Gohan and the villain Majin Buu staring at each other. The meme became popularized among Latin American anime fans in March 2023 and consists of showing people who seek to face complicated situations with the excuse that they do it just because they are "crazy."
Origin
The original scene[1] takes place in episode 263 of Dragon Ball Z, titled "A Whole New Gohan," which aired in Japan on May 3rd, 1995 (American airdate on October 29th, 2002). In the clip, Gohan significantly improved since his last battle against Majin Buu and shows the results of his training by overwhelming his enemy. The English dubbed scene was uploaded on YouTube by @Gokugohansonreturns[2] on February 26th, 2011, garnering over 656,700 views and 10,000 likes in 12 years (shown below).
On February 28th, 2023, TikToker[3] @el_men_que_sube uploaded a video using the scene alongside the caption in Spanish "yo con la percepción de la realidad completamente alterada," which translates to "me with the perception of reality completely altered" in English. The creator then adds an overlay text in the scene to describe a moment of insanity in which he tries to fight a bear, receiving 386,900 plays and 76,100 likes in two weeks.
Spread
On March 3rd, 2023, Twitter user @Natalan_[4] uploaded an image macro of the scene, captioning the villain with "streamers with 10-plus years playing Minecraft" and himself as Gohan with the caption "me with the perception of reality completely altered." The post garnered 14,200 likes and 641 retweets in one week (seen below).

In the following week, the image would grow into an exploitable format in which the characters and captions were replaced, usually by other fictional characters. For instance, Twitter user @SrLuchoPortuano[5] shared a version of the meme with the classic literature history of Don Quixote and his fight against the mills. The tweet garnered 20,500 likes and 2,589 retweets in one week.

Template

Various Examples



Search Interest
External References
Recent Videos
There are no videos currently available.