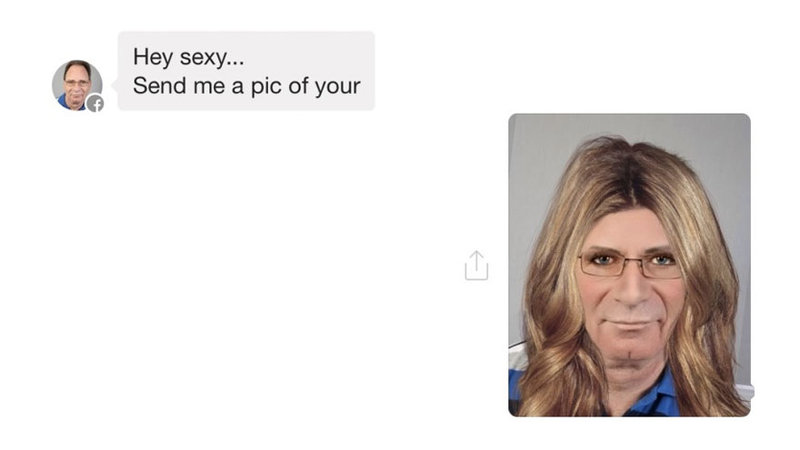 This submission is currently being researched & evaluated!
You can help confirm this entry by contributing facts, media, and other evidence of notability and mutation.
About
Hey Sexy Send Me A Pic refers to a series of exploitable images based on a Facebook messenger conversation between a man asking a woman for a picture and receiving a humorous picture of himself in return.
Origin
On December 24th, 2014, Tumblr [1] user shejla24 posted an image of a Facebook chat conversaton between a man and another. The man says to the recipient, "Hey sexy…send me a pic of you." The recipient sends a photoshopped version of the man's profile picture with long hair and make up. The man responds, "Why did you put hair and make-up over my photo? I don't want to talk to you anymore." As of August 2017, the post (shown below) received more than 580,000 notes.

Spread
Seven months later, on July 28th, 2015, the Facebook [2] account GerbilMemes posted a variation, replacing the image of man with a picture of a capybara. The post (shown below, left) received more than 94 reactions within two years.
The following month, Facebook[4] user Garlicbreadmemes posted a variation with a banana and banana bread instead of the photoshop of the man's face. The post (shown below, center) received more than 400 reactions and 35 shares.
The following year, on August 15th, the Facebook[3] account PetruccisCake posted a variation that replaced all the images but left the dialogue. The post (shown below, right) received more than



Various Examples






Search Interest
External References
Recent Videos
There are no videos currently available.