I Know It's Pink / Teen Sexual Harassment
About
I Know It's Pink, also known as I Bet It's Bubblegum Pink, refers to the widespread phenomenon of TikTok users (often teens) using variations of the phrase "I know it's pink," "it's grippy" or a hex code for a shade of pink known as #FF94A4 when commenting on a TikTok of an attractive girl or woman. Such "pink" comments have existed on TikTok since at least early 2021, with others like the Grip Reaper meme existing since 2022 and TikTok hornyposting memes such as Ichigo scream as related trends that took off in late 2022. The rise of such comments led to various discussions in early 2023 about the nature of "internet compliments" and how they tend to veer overtly sexual to the point of Teen Sexual Harassment in certain Gen Z internet circles.
Origin
TikTok comments referring to young girls and women's vaginas as "pink," supposedly as a compliment, have existed since 2021, with an early example being highlighted by TikToker[1] @whostayy on March 4th, 2021, gathering over 500,000 plays and 120,000 likes in nearly two years (seen below, left). On March 5th, 2021, TikToker[2] @anniegonzalezz posted a video replying to one such comment as well, gathering over 300,000 plays and 20,000 likes in nearly two years (seen below, right).
@whostayy

literally like huh wtf like it's getting out of hand yall
@anniegonzalezz's video also contained comments acknowledging that the "it's pink" trend is starting to gain traction, while another comment presents itself as an early instance of the hex code trend (seen below).

Spread
Various viral TikToks addressed the epidemic of "it's pink" comments in 2021. On August 3rd, 2021, TikToker[3] @izziesmith12 posted a video replying to one such comment, gathering over 3 million plays and 200,000 likes in over a year (seen below, left). On November 9th, 2021, TikToker[4] @crazyjamjam_ gathered over 300,000 plays and 30,000 likes replying to one such comment in over a year (seen below, right).
A notable example of the hex code trend being used in reference to a man was posted by TikToker[5] @elijahxkins on December 9th, 2021, directed towards artist Jack Harlow. The video is akin to the X Inches Long X Inches Wide meme.
The comment trend continued into 2022, with TikToker[6] @crazyjamjam_ posting a video about the "pink" comments she receives on her profile, gathering over 800,000 plays and 100,000 likes in eight months (seen below, left). On August 20th, 2022, TikToker[7] @gripstergurly posted a video replying to a "pink" comment, gathering over 1 million plays and 80,000 likes in over four months (seen below, right).
In early 2023, discussions about the uncomfortable nature of the aforementioned comments began to gain traction on Twitter, with Twitter[8] user @coldhealing quote tweeting screenshots of hex code comments on January 13th, 2023, and saying, "it's extremely common for the comments of a girl's tiktok to be spammed with variants of 'i bet it's pink' referring to her p*ssy. genuinely insane behavior, i don't even think prime 4chan would have done that and this is 16-year-old males on real name accounts." The tweet gathered over 1,000 likes in a day (seen below, left). On January 12th, Twitter[9] user @estrogennie posted a tweet saying, "people dont even compliment you normally anymore it's always literal sexual harassment," gathering over 60,000 likes in a day (seen below, right).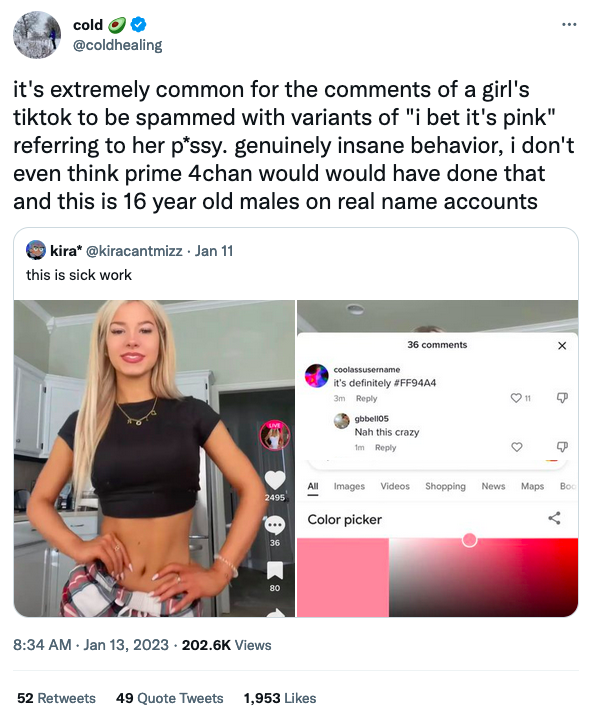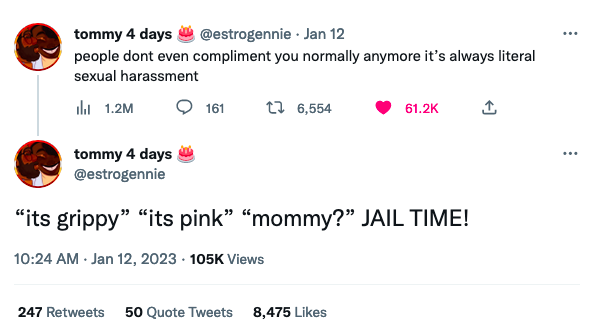 As of January 2023, TikTok has banned search functionality for the phrase "I bet it's pink."

On January 24th, 2023, Redditor /u/snowyjabroni made a post on /r/offmychest, detailing how they figured out what "It's pink" comments meant, adding that the shade of pink is often only naturally found on young girls below the age of 12. They discussed how many boys and men making these comments likely don't know or think deeply enough about what they are saying. The post gathered over 300 upvotes in a week (seen below).

Related Memes
Chicago Grip Reaper
Grip Reaper, also known as Chiraq Grip Reaper or Chicago Grip Reaper, is a catchphrase used by people to refer to a video featuring former Vine star ChloeLMAO, whose real name is Chloe Woodward. The video features a blonde Chloe wearing headphones and seated on a stoop as they deliver a quirky monologue that ends with "Just kidding! I live in the old city of Chicago [incomprehensible noises]." In 2022, internet users parodied the moniker "Chiraq Grim Reaper," used to describe late Chicago rapper "Lil Reese," and used it to express their amusement at Chloe's quirked up personality and expressing their attraction to Chloe.
It's Definitely #FF94A4
It's Definitely #FF94A4 is a viral TikTok comment referring to the hex color code for a light shade of pink-red. In January 2023, a TikToker commented on a female TikToker's video, "Its definitely #FF94A4," referencing the color he assumed her vagina to be. The comment was then screenshotted and gained viral spread, inspiring other TikTokers to spam it on women's videos and make videos referring to #FF94A4.

Ichigo Scream
The Ichigo Scream is a viral video and sound of Bleach character Ichigo Kurosaki's final, hollow form (Vasto Lorde) screaming while appearing red and glowing. In late 2022 and early 2023, a new Ichigo Scream sound emerged that additionally used Dragon Ball character Vegeta's quote, "No! No more! That's It! I Don't Care!" and the Playboi Carti song "No Sl33p." The sound was used to portray thirst or being horny for people, characters and concepts, similar to the Then Something Just Snapped trend.
Various Examples
Search Interest
External References
Recent Videos
There are no videos currently available.