About
"Thirst" is a term used as synonym for desire. Online, the term is often use to describe someone who is yearning for something, usually involving sex or attention, and is often used in conjunction with the word "trap", i.e. "thirst trap."
Origin
According to Online Etymology Dictionary, the word "Thirst" was first attested around the year 1.200 A.D.[1] The earliest use online can be found on December 3rd, 2003, when the term "Thirsty" was submitted to Urban Dictionary which the author describe as a situation where someone is "too eager to get something (especially sexual desires)".[2]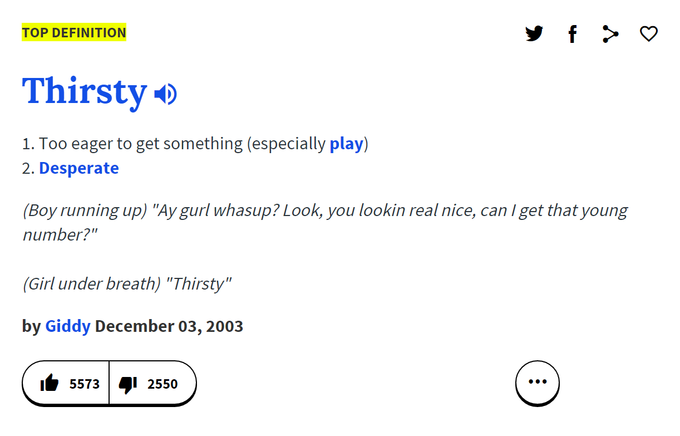 Spread
Around 2007, Rap singer Soulja Boy released a song titled "She Thirsty" which centers around the term. On November 5th, 2007, Urban Dictionary user audrianna submitted an entry regarding "She Thirsty", as "a thirsty hoe dat only wants you foe your money".[3] The song has been featured on various videos and the term itself is also used in similar vein to "thirst".
From 2007 to 2013, several variations of the term "Thirst" were submitted to Urban Dictionary.[3][4][5][6][7] On January 17th, 2014, Buzzfeed posted an article that compiles various examples of "the thirst" in social media sites.[8]
On an unregistered date, 9gag user ACCIPEHOC posted an image titled "Classic case of the thirst", gathering more than 19,000 points as May, 2015.[9] On June 6th, 2014, Funnyjunk user aznzeus submitted a GIF titled "*Scooooot" (shown below), from the Pokemon animated series, where the character Selena approaches to Ash Ketchum in order to take a photo. Within 11 months, the GIF has gathered over 50,700 views with 1,168 upvotes.[10]

Several sites such as Twitter[11], Tumblr[12], Vine[13], and Instagram[14] adopted the hashtag #TheThirst, used on posts in similar vein.
Various Examples




Search Interest
External References