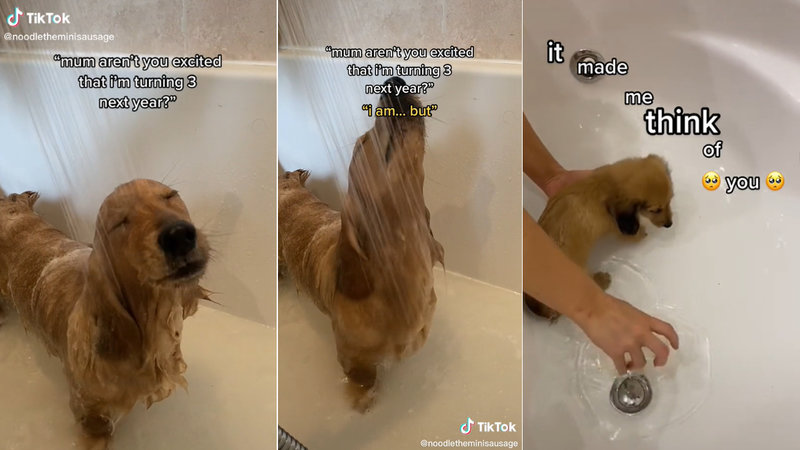 "It Made Me Think Of You" TikTok Trend
This submission is currently being researched & evaluated!
You can help confirm this entry by contributing facts, media, and other evidence of notability and mutation.
About
"It Made Me Think Of You" TikTok Trend is a trend on TikTok set to a sped up version of the song "Wings" by Birdy where a young child or pet is shown next to a caption about them growing up, followed by footage of the child or pet when they were a baby, or of someone deceased who the child reminds them of like a grandparent, over the lyrics, "It made me think of you." The trend became popular in October 2022.
Origin
It's unclear who started the trend. On September 11th, 2022, TikToker[1] @_.graciemills posted a video over a sped-up version of "Wings" where she stands beside a caption asking why she won't play basketball. The video then cuts to images of a deceased teammate, the reason she won't play, garnering over 500,000 views in a month (shown below, left). On September 30th, TikToker[2] @jay…cooper posted a video in a similar format where she mimicks a conversation where someone tells her she looks like her mother, followed by her crying and lip syncing "It made me think of you," garnering over 1.7 million views in three weeks (shown below, right).
Spread
In October, TikTokers began posting videos in a similar format about being nostalgic for the days when their pets or children were babies. For example, on October 12th, 2022, TikToker[3] @booplethesnoot posted a video like this about her dog, garnering over 2.4 million views in a week (shown below).
On October 15th, TikTokers[4][5] @shamelesslyscattered and @noodletheminisausage posted videos to the trend about a child reminding them of their dead grandfather and looking back on a dog as a puppy, garnering over 4.9 million and 3.8 million views respectively in four days (shown below, left and right). On October 18th, Distractify[6] published an article about the trend.
Various Examples
Search Interest
External References
Recent Images
There are no images currently available.