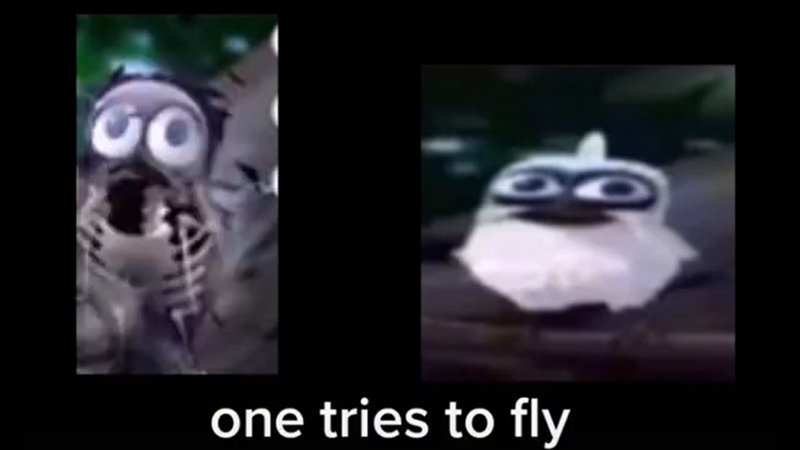 This submission is currently being researched & evaluated!
You can help confirm this entry by contributing facts, media, and other evidence of notability and mutation.
About
Two Birds On A Wire refers to a viral video set to the song "Two Birds" by Regina Spektor featuring two birds from the Talking Larry application, one of which gets hit by lightning followed by the other screaming in horror. The video was originally uploaded to TikTok around November 2021. It was later pitched up and made into a Nightcore remix, inspiring a trend where users recreate the video.
Origin
Around November 29th, 2021, now-deleted TikToker @tqmgatos posted a video set to Regina Spektor's "Two Birds" where two versions of Talking Larry the Bird, an app in the Talking Tom and Friends series, are shown over a black background. As the song plays, the bird on the left is killed by lightning. Seconds later the bird on the right screams in horror. The video was reuploaded by TikToker[1] @kaheilvs on November 29th, 2021, gaining over 3.4 million views in four months (shown below).
Spread
On December 2nd, 2021, the video was reuploaded to YouTube,[2] gaining over 215,000 views in three months. On December 8th, TikToker[3] @shatrog posted a Nightcore remix of the video where the whole thing is sped up, gaining over 2.2 million views in three months (shown below).
The original sound for the video went viral throughout December 2021 and January 2022, inspiring over 94,000 videos by March 2022. The majority of the videos are reenactments of the meme, where two people pretend to be birds on a wire, one dying and one screaming after (popular examples shown below, left and right).[4][5]
On February 26th, 2022, YouTuber[6] Anonymous YT2018✅ posted an animation based on the meme, gaining over 122,900 views in two weeks (shown below).
Various Examples
Search Interest
External References
Recent Images
There are no images currently available.