This submission is currently being researched & evaluated!
You can help confirm this entry by contributing facts, media, and other evidence of notability and mutation.
About
Lego Doctor refers to a multi-paneled image macro of a Lego doctor conversing with a patient before handing him the bill. The image macro spread from Instagram to Reddit and Twitter in June 2020 and is typically labeled with captions regarding high medical bills.
Origin
April 13th, 2020, Instagram account Legolize_official[2] posted the original meme and template in Italian to their page that is devoted to their own lego memes (shown below). The image gained over 62,530 likes in two months.

Spread
On May 6th, 2020, Redditor Twistervtx posted a variation to r/comedynecromancy[3] which is a direct translation of Legolize_official's Instagram post (shown below, left). The post received over 18,100 points (95% upvoted) in 20 days (shown below, left). On May 15th, Redditor notkhaos posted a variation to r/dankmemes[7] and accumulated over 93,800 points (89% upvoted) in 11 days (shown below, right).


On June 6th, Redditor AJ7123 posted the format to r/funny[4] in which the doctor is labeled Google and he hands out advertisements (shown below, left). The post received over 44,900 points (93% upvoted) in 13 days. On June 17th, Twitter user @775AC[5] posted a meme using the format captioned, "American healthcare be like" (shown below, center). The tweet accumulated over 655,800 likes and 156,600 retweets in three days (shown below, left). That same day, Redditor TallJacobTJ posted one regarding a doctor's visit addressing depression to r/dankmemes[6] which gained over 21,100 points (9% upvoted) in two days (shown below, right). StayHipp[1] published an article on the meme.



Various Examples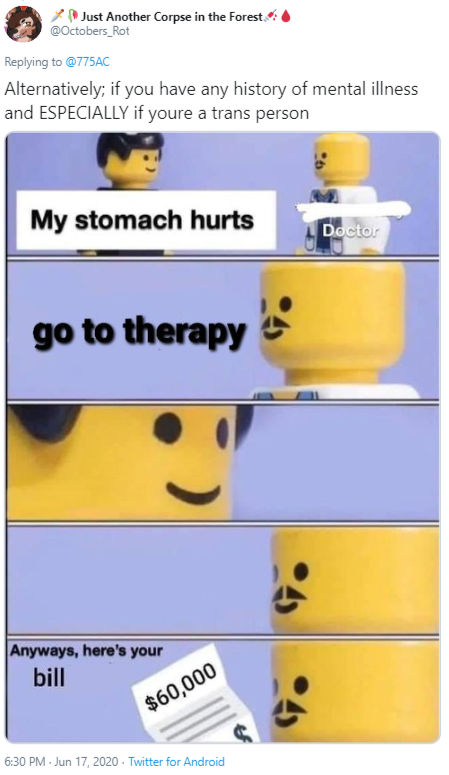 Template

Search Interest
External References