Listen, Kid, I Don't Have Much Time
This submission is currently being researched & evaluated!
You can help confirm this entry by contributing facts, media, and other evidence of notability and mutation.
About
Listen, Kid, I Don't Have Much Time refers to a series of memes in which Harambe the Gorilla attempts to disclose certain information to a three-year-old boy who crawled into its enclosure on May 28th, 2016. The meme format implies that Harambe's intention to share sensitive information with the boy was the direct reason for the gorilla being shot and killed on that day.
Origin
On September 10th, 2016, Imgur user Sqarcle posted an image of Harmbe the Gorilla standing next to a three-year-old who crawled into his enclosure on May 28th, 2016, captioned "Listen kid I don't have much time, I have information that will indict Hillary Clin…," with the meme implying that Harambe's attempt to disclose information on Hillary Clinton was the actual reason for him being killed on that day.[1] The post gained over 40 points in three years, with a repost made by Imgur user BurtFckingMacklinFBI made in the following hour gaining over 11,000 points in the same period.[2] The authorship of the meme is currently unconfirmed.

Spread
While the original image has been reposted multiple times in the following years, the format did not see any significant spread until on July 12th, 2019, Redditor GeniusPeanut posted a Storm Area 51 meme based on the format which gained over 12,400 upvotes in three months. On August 11th, 2019, Redditor efranlin13 made a post captioned in the same way as the original meme to /r/okbuddyretard subreddit (shown below).[3] The post gained over 9,900 upvotes in six weeks.


In the following weeks, the format received notable spread on Reddit, Instagram and other social networks, with memes imagining Harambe attempting to disclose various sensitive and intriguing information to the boy.
Related Memes
Chocolate Gorilla Melting
Chocolate Gorilla Melting is an image macro series depicting a chocolate gorilla progressively melting in a pot of milk atop a stove. The format is typically used to show the slow disappearance of a subject attempting to tell the viewer a secret across the four panels, only to melt away before they can finish the statement. Although the original photo appeared online in 2017, the image saw a resurgence on Reddit in early August 2020 as meme format, particularly in combination with Listen, Kid, I Don't Have Much Time.



Various Examples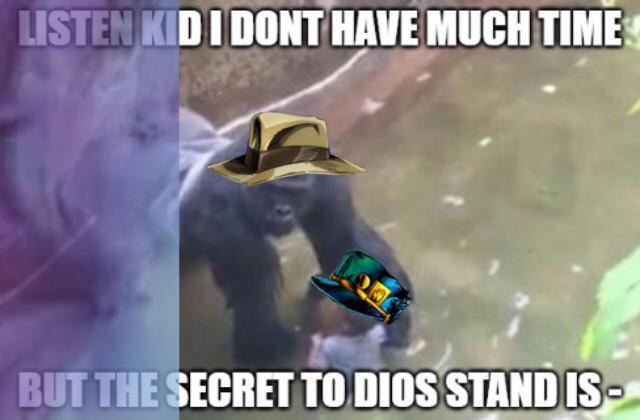 Templates

Search Interest
External References
Recent Videos
There are no videos currently available.