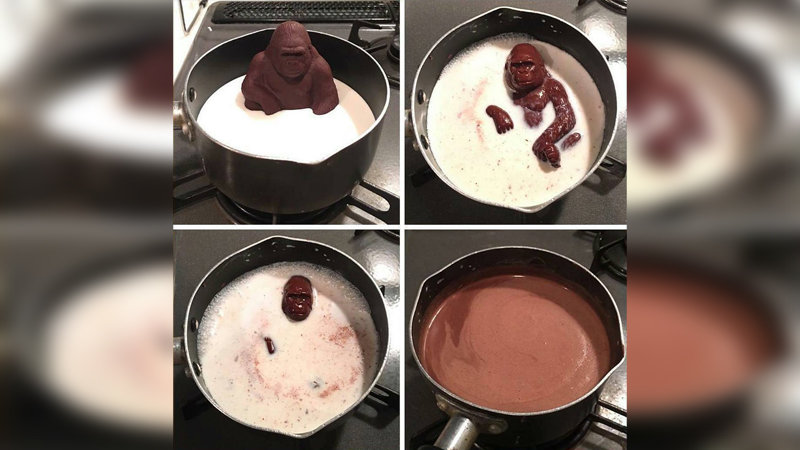 Milk Ape / Chocolate Gorilla Melting
This submission is currently being researched & evaluated!
You can help confirm this entry by contributing facts, media, and other evidence of notability and mutation.
About
Milk Ape, also known as Chocolate Gorilla Melting, is an image macro series depicting a chocolate gorilla progressively melting in a pot of milk atop a stove. The format is typically used to show the slow disappearance of a subject attempting to tell the viewer a secret across the four panels, only to melt away before they can finish the statement. Although the original photo appeared online in 2017, the image saw a resurgence on Reddit in early August 2020 as a meme format, particularly in combination with Listen, Kid, I Don't Have Much Time. Milk Ape is also featured in the lore of a fictional land called "Jungle Thick" where he is considered to be the king.
Origin
The original photo used in the meme comes from a post to Imgur[1] by user green1 on October 14th, 2017 (seen below). The image, which was uploaded under the title "I'll be back," received over 200,000 views, 4,000 upvotes and 140 comments. The actual product seen in the image is called "Zoology Chocolate Gorilla" and comes from Sugoi Mart.[6]

The first time it appears in a meme comes from a post by Redditor[2] walterwizzight on October 17th, 2017, to the /r/Accounting subreddit. The meme (shown below) was posted under the title "How Busy Season Feels," receiving 336 upvotes and 17 comments in six months.

Spread
On March 23rd, 2019, Imgur[3] user procrastinator9 uploaded a reaction image of the gorilla to the site under the title "Can relate." The meme (seen below) received over 115,000 views, 3,100 upvotes and 100 comments.

On June 12th, 2020, Redditor[4] Milk-Jug1737 posted a variant to the /r/dankmemes subreddit (shown below, left), receiving over 55,500 upvotes and 800 comments in roughly one month. On August 2nd, 2020, Redditor[5] Dank_Memerman then posted another example to the /r/memes sub (shown below, right), where it received over 80,000 upvotes, 1,100 comments and several Reddit awards.


Milk Ape Twitter
In December 2018, the Milk Ape Twitter[7] account was created surrounding the character. After over a year and a half, @ApeMilk had over 47,200 followers. On August 17th, 2020, ApeMilk[8] posted a meme featuring the chocolate gorilla (seen below), receiving over 175,000 likes, 32,000 retweets and 600 quotes in less than 48 hours.

Milk Ape Lore and Jungle Thick
In April 2019, the Jungle Thick Milk Ape Wiki was created on Fandom,[9] which contains the comprehensive lore surrounding the Milk Ape character and the other members of the fictional land "Jungle Thick." Referred to as the "Jungle Friends," the characters include John Deere Monkey Small, Stink Monky, White Choogly, Chocolate Monkey, Fat Nose, Baboon Jim, Baboon Jomes, Berry Baboon, Brick Monkey, Cheese Ape, Chico, Clobbah, Eliana, Fruit Bat, Funky warrior ape, Grandmaster Yoda, Joe Frap, Mr. Gingles, Mönchsgeier (Mon) the Monk Vulture, Orange Ape, Plush Monkey, Principal Seymour Skinner, Professor Ape, Principal Seymour Skinner, Small Monkey Red Deere, Real Monkey, Small Mouse, Soy Monkey, Stronk ape, The Businessmen, Wombat, Wood Ape and Milk Ape.
According to the lore, "Milk Ape is considered to be the king of Jungle Thick. He is made of chocolate and is being held captive in Pot of Milk, which is a long way from jungle. Little is known about the ape's origins, however it is considered that he may be the last of his kind."
On Reddit, particularly on the /r/ape and /r/okbuddyretard subreddits, references to the lore are commonly found in posts and memes. One such example was posted on June 23rd, 2020, by Redditor[10] Gritzy_404 to the /r/ape sub (shown below), receiving over 1,600 upvotes in roughly one month.

Related Memes
Listen Kid, I Don't Have Much Time
Listen, Kid, I Don't Have Much Time refers to a series of memes in which Harambe the Gorilla attempts to disclose certain information to a three-year-old boy who crawled into its enclosure on May 28th, 2016. The meme format implies that Harambe's intention to share sensitive information with the boy was the direct reason for the gorilla being shot and killed on that day.



Various Examples



Template

Search Interest
External References